Did Punjabi singer Shubh flash hoodie with Pro-Khalistan artwork in London concert; Here's the reality
In a video, Punjabi singer Shubh was seen showing a black hoodie to the crowd during a live concert in London on which the saga of Indira Gandhi's assassination was printed.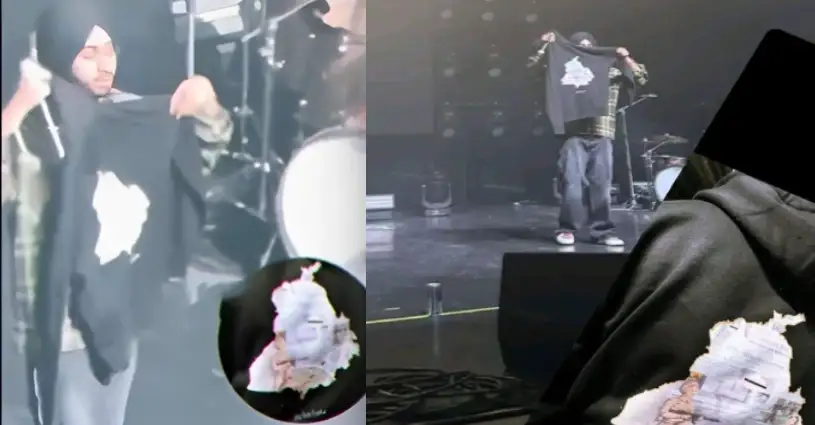 -

Punjabi singer Shubh came under the scanner of social media once again after a video went viral on social media showing him flashing a hoodie with Pro-Khalistan artwork. It was alleged that the Canada-based Punjabi singer Shubh did this during a live concert in London. Now, Shubh's London concert video is spreading like wildfire on social media and netizens are divided over the Punjabi singer's gesture.

In the viral Shubh London concert video, the Punjabi singer was seen flaunting the black hoodie towards the crowd. The printed part of the hoodie raised everyone's eyebrows. In the map of Punjab, the episode of Indira Gandhi's assassination by Satwant and Beant Singh was allegedly printed on the hoodie. In the video, it can be seen when Shubh showcased the black hoodie, the crowd erupted with joy.

However, a report suggests that Shubh did not flash a hoodie with Pro Khalistan artwork. As per OPIndia's report, the hoodie that he flashed on stage did not have the Indira Gandhi illustration, but instead, it had a map of Punjab on it, with the districts clearly outlined.

The video was allegedly edited by pro Khalistan outfits and shared on social media. The report further suggested that Shubh was apparently "tricked" into holding a hoodie during his concert in London that looked like a newly launched hoodie with artwork celebrating the assassination of former Prime Minister of India Indira Gandhi.

The report pointed out that Shubh was holding the hoodie and it had Punjab's map on it. However, the hoodie that promoted the pro-Khalistani agenda showed the assassination of Indira Gandhi. The hoodie was reportedly created by a pro-Khalistani clothing line, Akaal Clothing, that shared the video on their Instagram account as well.
Shubh's Khalistan controversy
It is pertinent to mention here that the Canada-based Punjabi singer Shubh is not new to such controversies. Last month, Shubh's concert in Mumbai was cancelled after he was accused of sharing a distorted map of India during Punjab Police's crackdown on Waris Punjab De Chief Amritpal Singh and his aides.
Shubh's Khalistan controversy sparked so much that the Punjabi singer had to break his silence. On his Instagram, Shubh shared his official statement saying-
"As a young rapper-singer hailing from Punjab, India, it was my life's dream to put my music on an international dais. But the recent happenings have tumbled my hard work and progress, and I wanted to say a few words to express my dismay and sorrow. I'm extremely disheartened by the cancellation of my tour in India. I was highly amped up and enthusiastic to perform in my country, in front of my people. The preparations were in full swing and I was practicing with my heart and soul for the last two months. And I was very excited, happy, and ready to perform. But I guess destiny had some other plans."
"India is MY country too. I was born here. It is the land of my GURUS and my ANCESTORS, who didn't even blink an eye to make sacrifices for the freedom of this land, for its glory, and for the family. And Punjab is my soul, Punjab is in my blood. Whatever I am today, I am because of being a Punjabi. Punjabis do not need to give proof of patriotism. At every turn in history, have sacrificed their lives for the freedom of this country. That's why it's my humble request to refrain from naming every Punjabi as a separatist or anti-national."
Explaining why he shared India's distorted map, Shubh wrote, "My intent in resharing that post on my story was only to Pray for Punjab as there were reports of electricity and internet shutdowns throughout the state. There was no other thought behind it and I definitely didn't intend to hurt anyone's sentiments. The accusations against me have deeply affected me. But as my guru has taught me "ਮਾਨਸ ਕੀ ਜਾਤ ਸਬੈ ਏਕੈ ਪਹਿਚਾਨਬੋ" "Manas Ki Jaat Sabai Ekai Pachanbo" (All the human beings recognized as one and same) and taught me not to be afraid, not to be intimidated which is the origin of Punjabiyat. I will. continue to work hard. My team and I will be back soon, bigger and stronger together.
Watch Shubh's London Concert video