Published On
'Queen of Pop' Madonna goes topless after posting cryptic video hinting that she is gay
Madonna topless photos have been going viral and fans have been going gaga by the veteran singer.
Author :
Ujjwal Samrat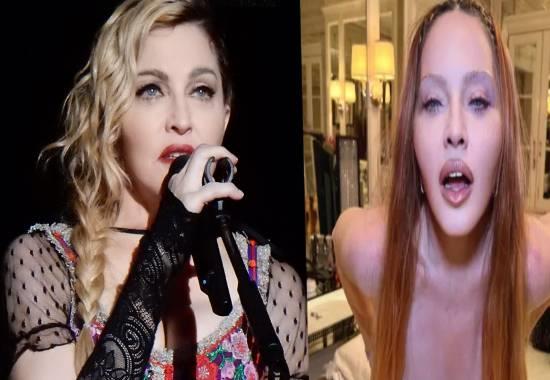 'Queen of Pop' Madonna on Friday took the internet by storm after she went topless for her fans on Instagram. Madonna has been buzzing on social media ever since she shared her photos on her Instagram handle. The 64 years-old singer and actress on Friday took to her Instagram stories to post her bare-chested photo with a quirky caption saying, 'went from candy to money'. In the Madonna topless photos, the Queen of Pop can be seen giving a funny expression to her fans, and wearing only a skirt. Madonna topless photos have been going viral ever since then and fans have been going gaga by the veteran singer.
Here are Madonna topless photos-
Recently, Madonna was in limelight after she posted a video hinting at she was gay. The Grammy award-winning singer, Madonna had posted her video indicating that she is coming out as gay. The Material Girl singer posted a video in which the 64-year-old can be seen dressed in all white, standing in front of a wall of mirrors. In her hands, she stretches out a pair of lace fuchsia undergarments. Across the bottom of the frame, it is written, 'If I miss, I'm Gay!'.
Is Madonna a gay? American 'Queen of Pop' viral TikTok video sets the internet ablaze; Watch
In the Madonna gay viral video, the pop star then throws her undergarment towards the dustbin, however, she misses it. The video suggests that Madonna might have missed the throw in order to come out as gay. She stands looking into the camera. With one hand on her hip, she shrugs, throws an arm into the air, and spins around.