RagNeeti makes a Grand debut: First public appearance as husband and wife; Watch
A Grand debut: Parineeti Chopra and Raghav Chadha's first public appearance as a married couple.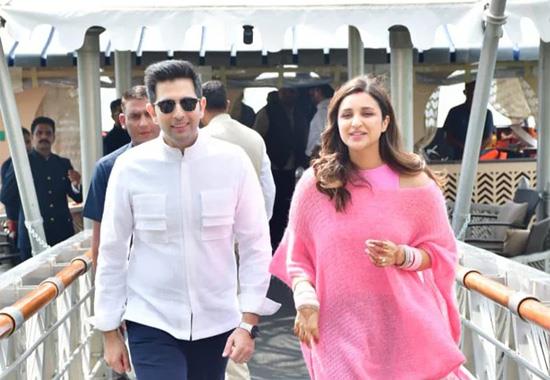 -

In a spectacle of love and elegance, the world's attention turned to New Delhi as Parineeti Chopra and Raghav Chadha made their first public appearance as husband and wife.
'RagNeeti' makes a Grand debut: First public appearance as husband and wife; Watch#RagneetiWedding #RagNeeti #RaghavChadha #RaghavParineetiKiShaadi #raghavparineetiwedding pic.twitter.com/myxtymPANf

— True Scoop (@TrueScoopNews) September 25, 2023
The momentous event unfolded just one day after their enchanting wedding ceremony, creating a buzz that radiated far beyond the city's boundaries.
A Grand Arrival at Udaipur jetty
Their journey began at the Udaipur jetty, a picturesque location that added an extra layer of charm to their debut.
What made it truly spectacular was their arrival by boat, stepping onto the shore from none other than the opulent Leela Palace, where their wedding had taken place. Graceful and poised, they traversed the jetty, met with the flashes and lenses of eagerly awaiting cameras.
Parineeti's Radiant elegance
Parineeti Chopra, a vision of beauty and grace, chose a flowing pink tunic top and jeans for the occasion. Her attire was accentuated by matching pale pink chooras, symbolizing her marital commitment in a unique and endearing way.
Raghav's Timeless charm
The groom, Raghav Chadha, looked every bit the dashing groom in his pristine white attire, exuding sophistication and timeless charm. Together, they embodied the union of two hearts and souls ready to embrace their journey as a married couple.
A Digital Glimpse into their Love Story
In the age of social media, Parineeti and Raghav generously offered their admirers an intimate look into their wedding day. They took to their social media platforms, sharing a captivating gallery of cherished moments.
These images provided a poignant window into the ceremonial jaimala exchange and the sacred pheras, each moment carrying profound significance.
A Love Story that Blossomed at Breakfast
Parineeti's love story with Raghav began at the breakfast table, where their hearts resonated in their very first conversation. She fondly remembered the dawn of their connection, which led to their engagement in May.
#RagneetiWedding#RagNeeti#RaghavChadha#RaghavParineetiKiShaadi#raghavparineetiweddingpic.twitter.com/myxtymPANfSeptember 25, 2023Also Read: Who is Phoebe Waller-Bridge? Wamiqa Gabbi's inspiration in Charlie Chopra & the Mystery of Solang Valley series View this post on Instagram A post shared by @parineetichopra
In a heartfelt Instagram post, she openly professed that she knew Raghav was "the one" during that auspicious breakfast date.
See the heartfelt post here:
Her words resonated with the anticipation she had harbored for this monumental day, a testament to their profound love story.
A Heartfelt expression
With deep gratitude and emotion, Parineeti composed a heartfelt caption that read, "Been waiting for this day for a long time.
So blessed to finally be Mr. and Mrs. Couldn't have lived without each other." These words captured the sheer euphoria of their union—a promise of a lifetime filled with love, companionship, and shared dreams.
The Grand Udaipur wedding
The opulent wedding took place in the splendid city of Udaipur, setting the stage for a celebration of unparalleled magnificence. The event attracted prominent political figures, including Arvind Kejriwal, the Chief Minister of Delhi, and Bhagwant Mann, his esteemed counterpart from Punjab.
Their presence added an extra layer of distinction and prestige to the festivities, marking Parineeti and Raghav's union as an event of both personal and political significance.
Manish Malhotra's Creative brilliance
Among the notable attendees from the bride's side was the celebrated fashion maestro, Manish Malhotra. Renowned for his creative brilliance, he curated Parineeti's resplendent wedding ensemble—a masterpiece that effortlessly captured her radiance and beauty.
Sania Mirza's Graceful presence
Adding a touch of sporting glory to the celebration was tennis sensation Sania Mirza, a dear confidante of the bride. Her presence added an extra layer of charm to an already glamorous affair.
Priyanka Chopra's unavoidable absence
However, Priyanka Chopra, the global icon and cousin to Parineeti, was unable to attend due to her demanding professional commitments. Her mother, Madhu Chopra, conveyed this regrettable absence, acknowledging the demands of her daughter's global career.
Unexpected cancellation of Karan Johar
Renowned filmmaker Karan Johar was scheduled to attend the glitzy occasion. However, unforeseen circumstances led to his cancellation, reportedly due to a family emergency.