Rajasthan Sub-Inspector on election duty rapes 4-year-old girl; Angry mob assault him on Video
The minor was reportedly playing outside when Sub Inspector Bhupendra Singh lured her and took her into his room in Dausa, Rajasthan.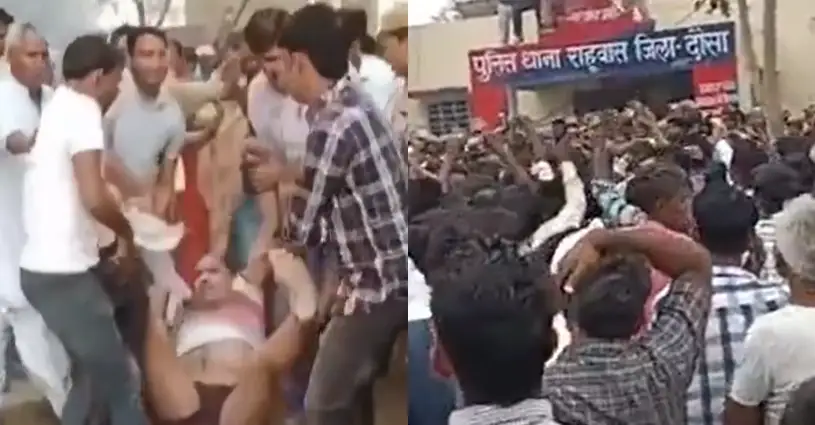 -

In an absolutely blood-boiling incident, a Rajasthan Sub-Inspector who was on election duty raped a 4-year-old minor on Friday afternoon. The Sub-Inspector has been identified as Bhupendra Singh. As per reports, Bhupendra Singh lured the girl into his room and raped her. The minor was reportedly playing outside when Sub Inspector Bhupendra Singh lured her and took her into his room. Following that, the girl sobbingly informed her mother of what happened to her.

Listening to what happened with their daughter, the mother and father reached the Police quarter to confront Bhupendra Singh. However, Bhupendra Singh shamelessly humiliated the minor's parents and also assaulted them. As a result, the parents informed the villagers. Thereafter, angry villagers 'gheraoed' the Police station and brought the Sub Inspector out of the station with the mob beating him.

The girl is currently admitted to a government hospital. The accused has been arrested and is being investigated. The shocking incident took place in Dausa, Rajasthan. As per the Police, "A case has been registered in Rahuwas police station against an SI identified as Bhupendra based on the complaint by a family living nearby. They have accused him of rape. A medical examination is being done of the minor girl. Necessary action will be taken."

Notably, after the news spread in the village, villagers gathered around the Rahuwas police station in large numbers, shouting slogans against the police. They also beat up Bhupendra Singh before handing him over to the police.

BJP Spokesperson Shehzad Poonawalla addressing a press conference said, "Today, this shocking case has come to the fore from Dausa where a four-year-old girl has been brutally raped by a sub-inspector in the Rajasthan Police. Instead of taking quick action on the accused, the Rajasthan police and administration took action in an institutional manner to save the accused...No suspension was done immediately. What about the two other police officials who have helped this particular accused in destroying the evidence. Has the Rajasthan police and government taken action against them immediately?"