Published On
Real vs Reel: Is 'The Vaccine War' a true story based on 'Made in India' COVID-19 vaccine Covaxin?
The Vaccine War Unveiled: A cinematic dive into Covaxin's story Author :
Malkit Singh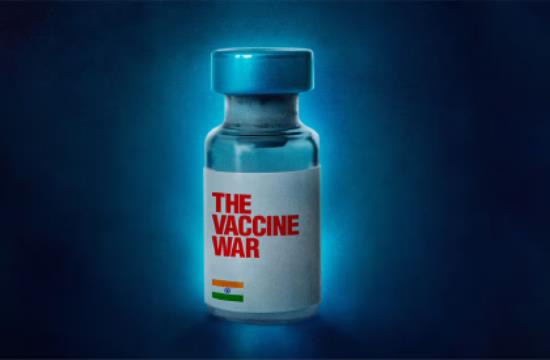 The highly anticipated film 'The Vaccine War,' directed by acclaimed filmmaker Vivek Ranjan Agnihotri, has been making waves with its intriguing storyline and stellar cast.
As the movie's release date approaches, questions arise about its authenticity and whether it truly portrays the remarkable journey of India's indigenous COVID-19 vaccine, Covaxin.
Unveiling the making-of video
Vivek Agnihotri, known for his unwavering dedication to his craft, recently shared an exclusive behind-the-scenes video, shedding light on the technical challenges faced during the film's production. He proclaimed 'The Vaccine War' as the most challenging project of his career, both technically and artistically.
The star-studded ensemble
A key highlight of the film is its remarkable ensemble cast, including Anupam Kher, Nana Patekar, Sapthami Gowda, Pallavi Joshi, Raima Sen, Girja Oak, Nivedita Bhattacharya, Yagya Turlapath, and Mohan Kapur. These accomplished actors were handpicked to bring authenticity and depth to their respective roles.
The storyline: Covaxin's journey unveiled
'The Vaccine War' revolves around the true story of Covaxin (BBV152), the inactivated coronavirus vaccine developed by Bharat Biotech in collaboration with the National Institute of Virology and the Indian Council of Medical Research (ICMR).
Actor Nana Patekar takes on the pivotal role of the head scientist leading the charge, while Pallavi Joshi portrays his second-in-command. Raima Sen, on the other hand, embodies a journalist who seeks to undermine India's vaccine efforts and promote foreign alternatives.
Also Read: Khalistan outfit calls for Indian consulate 'shutdown' in Canada over Nijjar's killing: Report
Anupam Kher makes a compelling appearance as the Prime Minister.
Bold narrative: Politicians and journalists in the spotlight
Director Vivek Agnihotri doesn't shy away from addressing sensitive topics in 'The Vaccine War.' He courageously brings to light the role of certain politicians and prominent journalists who promoted foreign vaccines at the expense of India's vaccine, Covaxin, for their own political agendas.
Technological innovation
Agnihotri's commitment to delivering a top-notch cinematic experience is evident in his use of cutting-edge technology and equipment, raising the technical standards of the film industry.
Release date and languages
'The Vaccine War' is set to captivate audiences across India and beyond on September 28, 2023. It will be released in Hindi, Tamil, and Telugu, promising a wider reach and deeper impact.
Conclusion: India's first bioscience film
'The Vaccine War,' a labor of love by Vivek Ranjan Agnihotri, offers an unprecedented look into the remarkable journey of Covaxin, India's homegrown COVID-19 vaccine. With a stellar cast, an engaging narrative, and technical brilliance, it is poised to make a significant mark in Indian cinema.