Renowned Vitreoretinal Surgeon and Sankara Nethralaya Founder, Dr. SS Badrinath, Passes Away at 83
Prime Minister Modi Condoles the Loss of a Visionary in Ophthalmology, Acknowledging Dr. Badrinath's Lasting Contributions to Eye Care and Philanthropy.
Authored by: malkit|
Updated 11/24/2023, 6:29:35 AM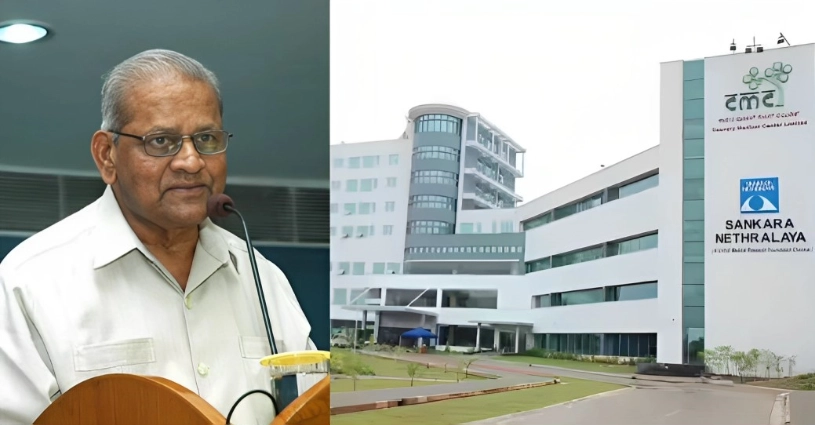 -

Dr. SS Badrinath, the distinguished vitreoretinal surgeon and founder of the renowned Sankara Nethralaya eye hospital in Chennai, breathed his last on Tuesday, November 21, at the age of 83. The passing of this stalwart in the field of ophthalmology has not only left a void in the medical community but has also triggered an outpouring of condolences from various quarters.

"Deeply saddened by the passing of Dr. SS Badrinath Ji, a visionary, expert in ophthalmology and founder of Sankara Nethralaya. His contributions to eye care and his relentless service to society have left an indelible mark. His work will continue to inspire generations. Condolences to his family and loved ones. Om Shanti" he said in a social media post.

Born on February 24, 1940, Dr. SS Badrinath's illustrious career in ophthalmology spanned several decades, earning him accolades and recognition both nationally and internationally. In 1983, he was honored with the Padma Sri, and in 1999, the government bestowed upon him the Padma Bhushan, recognizing his exceptional service in the field.

Dr. Badrinath's journey was not merely one of professional accomplishments but a narrative of profound impact on eye care in India. The Sankara Nethralaya eye hospital, founded by him, became a beacon of hope for those seeking quality eye treatment. His vision to establish an institution that prioritized both excellence in medical care and accessibility for all segments of society became a reality with Sankara Nethralaya.

Under his leadership, Sankara Nethralaya emerged as a center of excellence in vitreoretinal surgery, contributing significantly to advancements in the field. The hospital's commitment to providing affordable eye care to the underprivileged showcased Dr. Badrinath's unwavering commitment to societal welfare.

Colleagues, peers, and the medical fraternity, both in India and beyond, remember Dr. SS Badrinath not just as a skilled surgeon but as a compassionate healer and a visionary leader. His legacy lives on through the countless lives he touched, the medical professionals he mentored, and the institution he founded, which continues to be a beacon of hope for those in need.

As the nation mourns the loss of a pioneering figure in the realm of eye care, Dr. SS Badrinath's contributions serve as a testament to the transformative impact that dedicated individuals can have on the well-being of society. His indomitable spirit and commitment to service will be remembered for generations to come, ensuring that his work remains an enduring source of inspiration for the medical community and beyond.