Published On
Result oriented New Excise policy to give death knell to liquor mafia in state: says Excise Commissioner
Interstate smuggling of liquor to be curbed
Author :
Rakesh Behal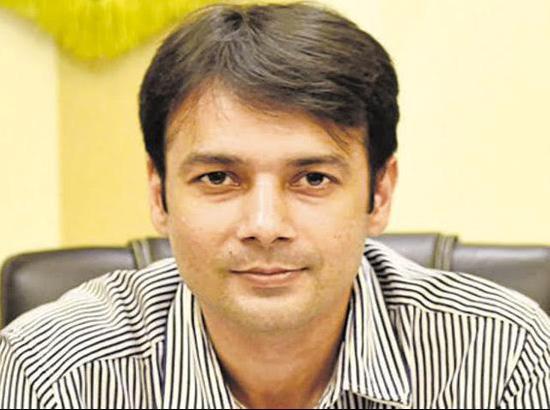 Excise Commissioner Varun Roojam today said that the result oriented new Excise policy will give death knell to liquor mafia in the state besides checking smuggling of liquor from neighbouring states.
The Excise Commissioner said that groups have been drastically reduced for optimum realization of the Revenue and to get the benefit of economy of scale. He said that during meetings with the licensees before formation of the Excise Policy, it was the demand of existing retail licensees that the size of group should be larger than the existing size (07-08 crore) and should be in the range of 30 Crore. He further said that this will minimise inter-group rivalry, which is rampant generally when the size of the group is small, adding that it will also help in weeding out unscrupulous elements from liquor trade and bring efficiency in liquor trade.
The Excise Commissioner further said that in new Excise Policy, the number of vends throughout the State has been kept same and therefore, even if, the number of groups have decreased, the employment opportunities remain the same in retail sector. He said that this policy envisages creation of new employment opportunities for the people of Punjab from liquor related manufacturing sector. Varun Roojam said that the license for setting up distilleries, bottling plants and breweries have been re-opened and the policy has also allowed setting up of Malt manufacturing units in Punjab with emphasis on setting up of new Ethanol Plants, all of which will open new vistas of employment for youth.
The Excise Commissioner said that Reduction in prices will not cause significant increase in consumption but consumer will get product at competitive rates. He said that Punjab has been suffering because of smuggling from neighbouring states and the reduction in prices of liquor will effectively curb the interstate liquor smuggling activities. Thus, Varun Roojam said that the end consumer will be the final beneficiary.
The Excise Commissioner further said that the new policy also envisages effective Excise Enforcement activities at circle and district level by the officers of the Excise Department in coordination with District Police. He said that the Excise Department has already coordinated with Punjab Police at State level and resultantly Narcotics and Excise Cells in all district Police Headquarters have been created to have dedicated Police Force for Excise related Enforcement. In addition to it, Varun Roojam said that the new Excise Policy envisages putting in place a viable mechanism from manufacturing to the whole supply chain of liquor for effective enforcement by slew of measures including Introduction of Track and Trace software using Bar-coding on all liquor supplies in the State of Punjab, introduction of POS machines at retail vends, Electromagnetic Mass Flow Meters to measure the production, uses and dispatch of spirit at all manufacturing units, CCTV cameras (24X7) at all manufacturing units and wholesale and mandatory Biometric operated boom barriers at out gates of all manufacturing units.
The Excise Commissioner said that projected increase in the revenue has been calculated keeping in mind actual potential of each group. He said that this is based on ground inputs taken by the officers posted at circle/district level. Varun Roojam said that factor of anti smuggling operations as well as anti illicit distillation operations shall have positive impact on increasing the revenue.
The Excise Commissioner said that new Excise Policy will also check illicit liquor that caused so many deaths in past regimes. He said new Excise Policy has introduced low cost 40 degree PML to be sold in Pouches in illicit liquor prone areas of Punjab which will definitely wean away the people from drinking illicit/illegal liquor. Varun Roojam said that people will shift from unhealthy illicit liquor manufactured illegally to low priced legally manufactured 40 degree PML thereby decreasing illicit distillation of liquor to a significant extent.
The Excise Commissioner said that the new Excise Policy clearly establishes a legal framework to break unholy nexus between manufacturers, wholesalers and retailers. He said that now they shall be at an arm's length distance from each other and they won't be able to integrate their liquor business (manufacturing, wholesale and retail) segments to their advantage.