Published On
Richa Chadha-Ali Fazal Love story: Journey from 'Fukrey' co-actors to soon-to-be-married; Details inside
At the world premiere of Ali's film Victoria and Abdul at the Venice Film Festival in 2017, Richa and Ali made their first public appearance as a couple Author :
Samriti Bharadwaj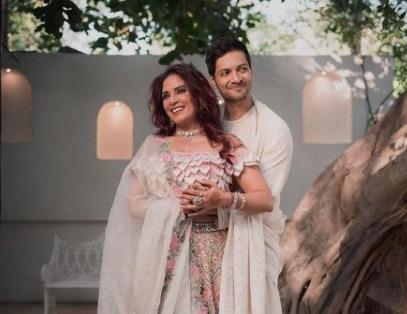 Richa Chadha and Ali Fazal, two Bollywood actors, are finally getting married. The couple's wedding preparations have already started in Delhi. Richa shared an Instagram photo of the pre-wedding festivities on Friday, September 30. Richa and Ali have been together for nearly seven years, and their relationship story is nothing less than extraordinary.
In 2012, the two actors got to know one another on the shoot of their movie Fukrey. Richa and Ali, who both portrayed diametrically opposed characters in the movie, got along well because of their shared traits outside of work. The two were close friends for a number of years before news of their supposed relationship broke in 2017.
Ali revealed that even before he met Richa, he was a fan ever since he saw her work in Gangs of Wasseypur. Talking about Richa's first impression of Ali, Richa shared, "I had a preconceived notion about him when I met him on the sets of Fukrey. I had always known him to be decent and respectful, but kinda naughty, and also kinda nutty. I could relate to his nutty side and I could also relate to his naughty side. Among the other boys in the group, I felt closest to him in terms of my mind, and I think that was the seed of it all."
Richa was the first to declare her love for Ali and say the "three magical words" - I love you. Richa revealed in a conversation: "We were watching the 1992 British-American biographical comedy movie Chaplin, starring Robert Downey Jr., at my place. He seemed to enjoy the movie, and I was glad to have met someone who shared my tastes. That is when I said, 'This is really sweet, I love you' to him." Richa was the first to profess her affection for Ali, but it took him three months for him to react.
The actor also talked openly about the moment he first realised he loved Richa. In an interview, the actor shared, "It is very mysterious. I don't think I can take you through my love story because it is one of the most beautiful personal journeys of my life, but I can tell you that it is a liking that is unmatched in the life that I have lived until now and a friendship that I am really, really proud of. It happened like it is said in the movies."
At the world premiere of Ali's film Victoria and Abdul at the Venice Film Festival in 2017, Richa and Ali made their first public appearance as a couple. Later, the couple was seen spending some time romancing in the city. In the same year, they also made an appearance in Fukrey 2.
In the same year that he shared a photo with the actor on Instagram, Ali also declared their relationship Insta-official. He captioned the post, "One of my favorite pictures. Hai toh hai (It is what it is)
The couple made the decision to get married in 2020 not long after the proposal. Their preparations to exchange vows, however, were postponed for more than two years as a result of the COVID-19 pandemic. Ali had lost his mother and grandfather to COVID during the first and second waves of the pandemic, thus it was also tragic for the pair.
So now that Richa Chadha and Ali Fazal's wedding celebrations have started, the bride-to-be uploaded photos of herself with Ali Fazal on Friday afternoon with the hashtag "#RiAli Mohabbat Mubarak."