With winter setting in, the Ayodhya Municipal Corporation has decided to buy jute coats for the cows staying in different shelters of the holy city.
Niraj Shukla, Nagar Nigam Commissioner of Ayodhya, said, "We are in the process of getting the cow coats made. This scheme will be implemented in three-four phases. First, we are starting with Baishingpur cow shelter, which houses around 1,200 cattle including 700 bulls and the rest being cows and calves. We have initially placed order for 100 cow coats for the calves."
Shukla further said that the first delivery will arrive in November end and each cow coat costs Rs 250-300.
However few months back, a video of school kids eating rotis and salt under a flagship scheme of the central government in eastern Uttar Pradesh's Mirzapur district?
This clip is from a @UPGovt school in east UP's #Mirzapur . These children are being served what should be a 'nutritious' mid day meal ,part of a flagship govt scheme .On the menu on Thursday was roti + salt !Parents say the meals alternate between roti + salt and rice + salt ! pic.twitter.com/IWBVLrch8A
— Alok Pandey (@alok_pandey) August 23, 2019
The journalist who had recorded that video was charged for conspiracy to defame the Uttar Pradesh government. In the video that had gone viral, school children could be seen sitting on the floor and eating roti and salt as part of their mid-day meal. The Uttar Pradesh Mid Day Meal Authority website, on the other hand, has a menu that includes pulses, vegetables, rice and rotis, along with fruits and milk, to be served to students.
Also Read: Delhi Pollution: Children in Delhi smoke 10 cigarettes a day just by breathing
This was not the first instance of such kind in Uttar Pradesh. Another purported video showed school children being fed rice and turmeric for the same mid-day meal scheme. We should remember that the Mid-day meal scheme was introduced to provide nutritious meals to children attending public schools. These were also aimed at increasing attendance in the school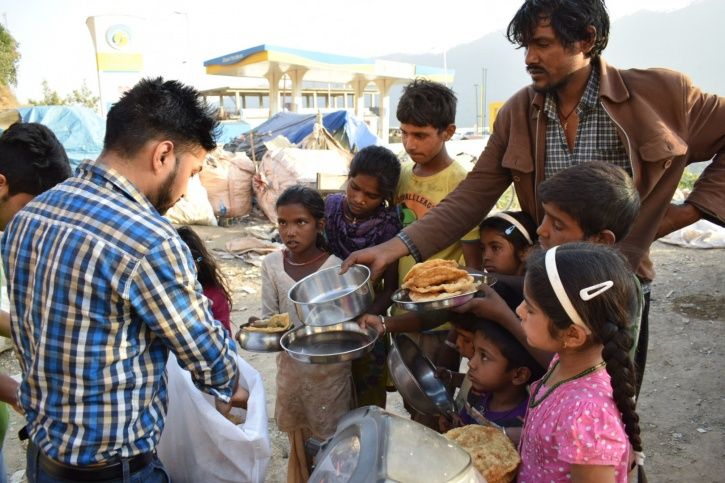 .