In this era of social media, most people are rumored. Misinformation reaches from here to there in a blink of an eye. The same happened on Tuesday night, when the news of the demise of actor Arvind Trivedi, who became popular from house to house playing the role of Ravana in Ramanand Sagar's Ramayana, was spread, which the artist Sunil Lahiri, who played Laxman, did deny such reports. He Appealed to people to stop spreading such rumours.
The interesting aspect is that exactly one year ago there was news of the death of Arvind Trivedi, which was denied by his family.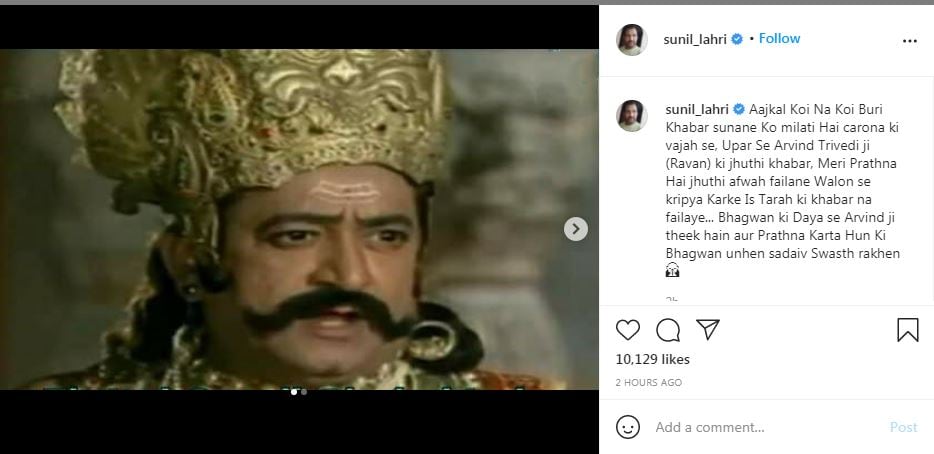 On Wednesday morning, Sunil Lahiri shared two pictures on his Instagram account, one of which was Arvind Trivedi's Ravana look. In the second picture, Sunil is seen with Arvind Trivedi. This picture is only one or two years old.


With these pictures, 'Lakshman' wrote - Everyday, some bad news is heard due to Corona.Above all, the false news of Arvind Trivedi ji (Ravana). My prayer is, please do not spread the news of this groan by being kind to those who spread false rumors. By the mercy of God, Arvind ji is fine and pray that God keeps him always healthy. 'Sita' Deepika Chikhaliya also reacted to this and made Pranam's emoji.

The news of the death of Arvind Trivedi was also reported on May 3 last year, after which his nephew Kaustubh B Trivedi denied it on Twitter. He wrote- My Uncle Arvind Trivedi Lankesh is completely healthy and safe. It is requested, stop flying fake news.Please spread this.
Let me tell you, the rumor of the death of Arvind Trivedi was raised last year when the Ramayana was being broadcast on Doordarshan. The Ramayana was rebroadcast in March with the announcement of the lockdown in 2020, which gained a lot of success. 82-year-old Arvind Trivedi is a well-known artist of Gujarati cinema. He also acted in several films. However, the most memorable character of his career is 'Ravana'.