'Sanatan Dharma Should Be Compared To HIV': DMK's A Raja intensifies row after Stalin's 'Malaria, Dengue' remark, booked
Sanatan Dharma controversy intensified after DMK Lok Sabha MP A Raja said that Udhayanidhi had only compared Sanatan Dharma to diseases like malaria and dengue, rather Sanatan Dharma should be compared to HIV and social stigmas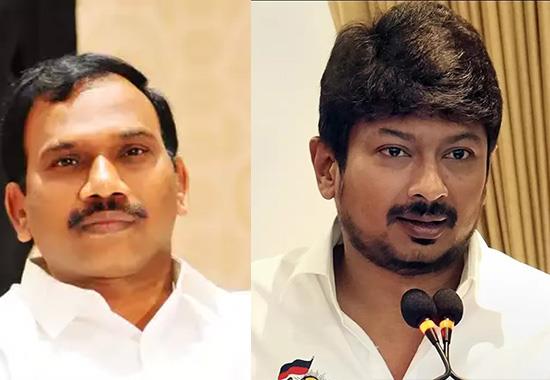 -

With the 2024 Lok Sabha Elections coming soon along with multiple state elections, India has been witnessing ugly & bizarre statements from the leaders of Tamil Nadu especially from the DMK. After DMK leader Udhayanidhi Stalin, Tamil Nadu CM MK Stalin's son compared Sanatan Dharma to 'Dengue & Malaria' and called out for wiping out such evil, another leader named A Raja from the same party made a controversial remark for the same religion. On Thursday, Sanatan Dharma controversy intensified after DMK Lok Sabha MP A Raja said that Udhayanidhi had only compared Sanatan Dharma to diseases like malaria and dengue, rather Sanatan Dharma should be compared to HIV and social stigmas. A Raja's remarks on Sanatan Dharma added fuel to the fire which the people of India are already witnessing. A Raja's remarks were condemned by BJP leaders including Union Minister Hardeep Puri saying that A Raja should be ashamed for his Sanatan Dharma remark.

Hardeep Puri was quoted saying, "Those who made such comments about 'Sanatan Dharma', about India's culture and civilisation should be ashamed...The country and all Indians are disgusted by these kinds of statements and I think that they will have to answer before the people," he further said.

It is pertinent to mention here that the Sanatan Dharma row erupted after the Tamil Nadu CM's son compared it with Dengue and malaria and did not even retract his statement. Not only this, Tamil Nadu CM Mk Stalin came in defense of his son Udhayanidhi saying that he was just expressing his views and not hurting religious sentiments. "He expressed his views on Sanatan principles that discriminate against Scheduled Castes, Tribals, and Women, with no intention to offend any religion or religious beliefs... Pro-BJP forces are unable to tolerate his stance against oppressive principles and have spread a false narrative, alleging that "Udhayanidhi called for the genocide of people with Sanatan thoughts," said MK Stalin as reported by a newswire.

A Raja booked for comparing Sanatan Dharma to HIV

Also Read: No alliance with Congress in Punjab', says AAP minister

Coming back to A Raja, a complaint has been filed against DMK leader who compared the Sanatan Dharma with diseases like HIV and leprosy. More information on the complaint against A Raja is yet to be revealed. However, multiple FIRs, including one in Uttar Pradesh's Kanpur, have been registered against Stalin junior for allegedly outraging the religious feelings of the followers of Sanatan Dharma.