Published On
Schools temporarily suspended in Delhi-NCR, Ghaziabad due to COVID outbreak; Know 10 safety precautions
The latest case is of Jaipuria School of Vasundhara. 54 new cases have come in Noida in the last 2 days.
Author :
Rohit Gupta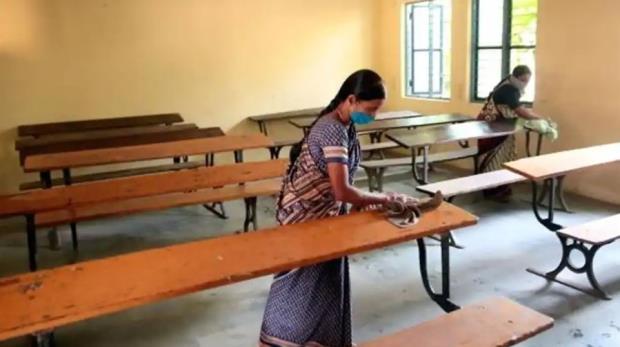 23 March 2020 was the day when the lockdown was announced across the country. Soon the whole country was imprisoned in their homes. After two years, things got better somewhere.
From this month, schools for children opened in Delhi-NCR. There was joy in the faces of the children about going to school after two years. But now again the shadow of Corona is visible in this happiness.
In many schools of Delhi-NCR (Coronavirus Risk Delhi-NCR Schools), the Health Department has also come on alert mode due to the arrival of children and school staff corona positive.
The latest case is of Jaipuria School of Vasundhara. 54 new cases have come in Noida in the last 2 days.
Jaipuria School at Ghaziabad Vasundhara
Ever since the schools for all the children have been opened, cases of corona are coming to the fore in the schools. The latest case is of Jaipuria School in Vasundhara, where a class X student is a COVID positive. After this, the school administration closed the school till further orders. However, online classes will continue.
8 children in Noida's DPS suffer from COVID
There have been reports of 8 children being corona positive in DPS (DPS School Student Coronavirus) school in Noida. A 12-year-old student studying in Noida DPS first got a fever problem.
When he was examined, he was found to be corona positive. He was admitted to the Covid ward two days ago. However, his antigen report came negative.
Because of the symptoms of the corona, his RPTCR test was done. In this, he was found corona positive. After this, the other students were examined. In this 8 children have been found positive. The age of all is said to be between 8 and 18 years.
The child who was first infected had not yet been vaccinated. However, two out of 8 children found to be infected later have been vaccinated.

Ghaziabad Indirapuram St. Francis
On April 11, two people are Covid infected in St. Francis (Delhi NCR School Covid 19 Update) school located in Indirapuram, Ghaziabad.
In a message sent by the school principal to the parents, the school's offline classes have been closed for 3 days from April 11 to 13.
Given the message that prevention is better than cure, the school has talked about studying in online mode for 3 days.
Cases of corona have been reported from KR Mangalam School. Earlier on Sunday (April 10, 2022) a private school in Ghaziabad also decided to keep the school closed for the whole week after the corona infected children were found and online classes are going on.
Take these precautions before going to school
Send to school wearing a mask that properly covers the nose and mouth.
Keep extra masks, sanitiser, and wet tissue in the bag.
Give lunch boxes and refuse to eat canteen or other food.
Do not share pens, pencils, rubber, scales, books etc. with anyone.
Do not put a pen or pencil in your mouth while writing and reading.
Teach how to open the gate when using the washroom. Open with elbows instead of opening with straight hands.
Try to leave the school in your vehicle instead of a public vehicle.
If you have to go by public vehicle, then sanitize your hands as soon as you get off the car.
Forbid the child from eating or drinking anything inside the bus.
To replace the mask immediately if it gets wet.
While sneezing, and coughing, cover your mouth and nose with a tissue, handkerchief or elbow.
Under no circumstances send the child to school if he is ill.
Child to keep a distance of 6 feet from everyone. Don't go to play with friends.
Wash children's clothes, water bottles, lunch boxes etc. after coming from school.
If there are patients, pregnant or elderly people in the house, then prevent children from approaching them.