Shreya Ghoshal has every reason to be overjoyed today. After all, the popular Bollywood singer has just become a mother for the first time. Yes, indeed! Yes, you read that correctly. Shreya gave birth to her first child today, and she is now the proud mother of a baby boy.

Shiladitya Mukhopadhyaya and Shreya Ghoshal have welcomed a baby boy into their family. The singer shared a heartfelt message with her fans and followers on her social media pages to announce the good news.

Shreya wrote, "God has blessed us with a precious baby boy this afternoon. It's an emotion never felt before. @shiladitya and I along with our families are absolutely overjoyed. Thank you for your countless blessings for our little bundle of joy."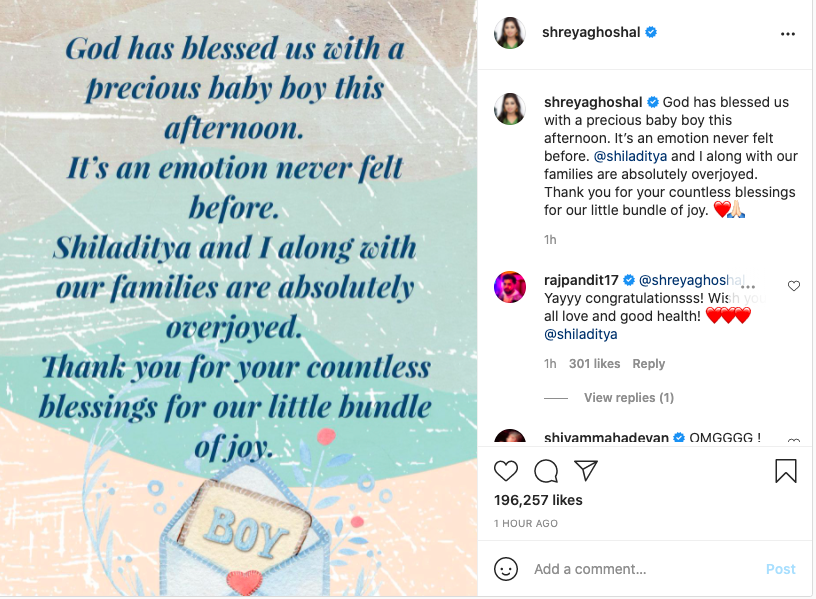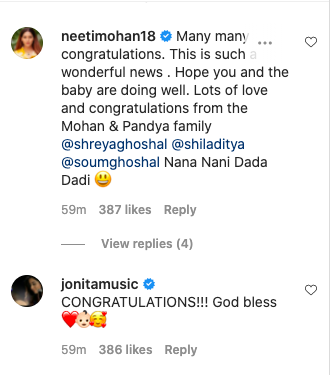 Shreya's fans and friends flooded the new parents with congratulations as soon as she announced the happy news. Neeti Mohan, a singer, wrote in the comments section,"Many many congratulations. This is such a wonderful news . Hope you and the baby are doing well. Lots of love and congratulations from the Mohan & Pandya family @shreyaghoshal @shiladitya @soumghoshal Nana Nani Dada Dadi.

Also Read: Vijay Verma shares funny meme after Radhika Apte receives first shot of COVID vaccine
Jonita Gandhi, Shekhar Ravjiani, Shivam Mahadevan were among the others congratulating the couple.

Shreya Ghoshal revealed her pregnancy earlier this year in March. On her Instagram page, the 36-year-old singer posted a photo of herself cradling the baby bump."Baby #Shreyaditya is on its way! @shiladitya and me are thrilled to share this news with you all," she had captioned the photo. "Need all your love and blessings as we prepare ourselves for this new chapter in our lives."She wrote.