Published On
Koffee with Karan 7: Karan Johar reveals his plan if Sidharth Malhotra & Kiara Advani decide to marry; Details Inside
Sidharth Malhotra also sought of manifested to get married to Kiara
Author :
Guneet kaur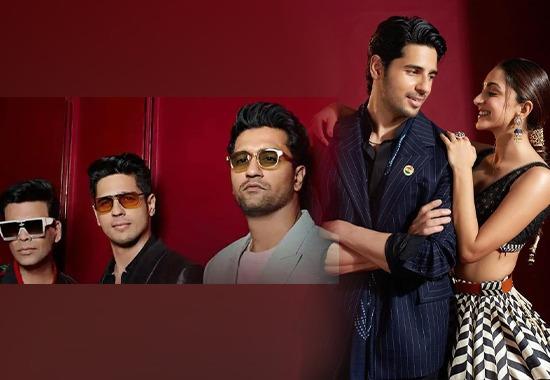 Dharma Production owner and host of Koffee with Karan 7, Karan Johar is back in the spotlight ever since his talk show made a comeback and started streaming on Disney Plus Hotstar.
The show 'Koffee With Karan' got some hot coffee brewing and many secrets were spilled on the couch through yesterday's episode starring Vicky Kaushal and Sidharth Malhotra.
Karan Johar surely knows how to get secrets out of a person's mouth and he did it well in the latest episode.
The 7th episode of Koffee With Karan was surely an interesting one as the rumored couple, Sidharth Malhotra and Kiara Advani formally accepted their relationship. The fans of both actors are on cloud nine as they will be hearing some wedding bells very soon.
In the episode, Karan Johar played a clip of Kiara Advani where he was seen pushing the actress to accept her relationship with Sid and it seems that he successfully did it.
It was declared on the show that Karan Johar and Shahid Kapoor will be performing at #SIDKIARA wedding on a famous song named 'Dola re Dola.'
Not only this but Sidharth Malhotra also sought of manifested to get married to Kiara or have a happy life ahead which has Kiara Advani in it. Although he did not give much information about their relationship but did not even deny or hid it from the public.
Kiara Advani called Sidharth 'more than a close friend' and Sid revealed that he has saved Kiara's number on his phone as 'Ki.'
#sidkiara#SidharthMalhotrapic.twitter.com/rncVslgATQAugust 17, 2022#SidharthMalhotra#KiaraAdvani#VickyKaushalpic.twitter.com/JSL4Lje1OpAugust 17, 2022#SidharthMalhotra#KiaraAdvanipic.twitter.com/RFMK5grJW0August 17, 2022#SidharthMalhotra#SidKiarahttps://t.co/faXIfIIepJAugust 18, 2022
the way sid was blushing the intire time when kiara was on screen, this man is so whipped 🥹🫶

• •

— pra🇮🇳 (@raanjhanaaa)
Sid- Well I'm happy that Kiara is still single 😭😂
And Vicky and karan taking his balaien 😂❤️

[ ]

— 𝓚𝓻𝓲𝓽𝓲 🇮🇳 (@Kriiitttiii)
they are meant to be. 💕

[, ]

— 🖤 (@prissha16)
Bechara my Sid's network doesn't work every season🥺 fix your studio network kjo😐
And it was so sweet of Kiara to call him...so cuteee🥺❤

— khushmijaaz Ajnabiii (@Ajnabii987)
All these little moments from yesterday's episode left all the fans in awe and nobody can wait to hear the wedding bells of the cutest and most beautiful couple in Bollywood.