Published On
Sidhu Moose Wala Death: Who's rapper Tupac Shakur? Punjabi singer's 'Last Ride' song was a tribute to him
Sidhu Moose Wala was a hip-hop artist. He considered American rapper Tupac Shakur as his mentor. He used to make rap songs like him. It is a coincidence that he died like Tupac. Author :
Rohit Gupta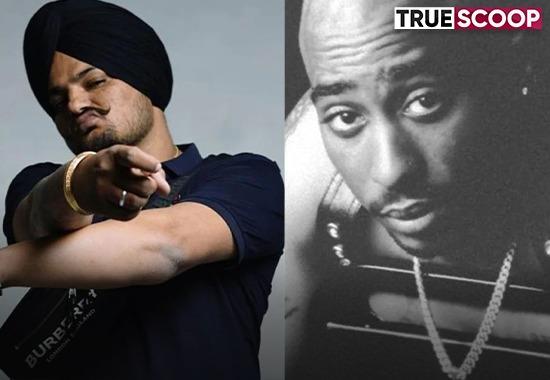 Sidhu Moose Wala Death:
Famous Punjabi singer Sidhu Moosewala was shot dead in Mansa on Sunday. Sidhu Moose Wala was a hip-hop artist. He considered American rapper Tupac Shakur as his mentor. He used to make rap songs like him. It is a coincidence that he died like Tupac.
Moose Wala's style of music was gangsta hip-hop, which was also Tupac's style of music. Tupac used to be aggressive against social issues and opponents in his songs. When Tupac was assassinated in 1996, Moose Wala was just three years old. He never met Tupac, but his songs always had an impact on Moose Wala.
This is the last photo before the death of Tupac Shakur, seen on the left side of the photo. Sidhu Moose Wala is seen after the attack on the right side in this collage.
Tupac was born on June 16, 1971, in New York, the USA, and both of their careers w in controversial. Tupac's life and music career have always been controversial. On September 13, 1996, Tupac's car was attacked on a Las Vegas street and he was shot dead by four bullets.
Tupac was just 25 when he was murdered in a gang war. At the same time, Sidhu's murder also happened similarly. The attackers attacked Sidhu's car and he died on the spot due to three bullets. Moose Wala was just 29 years old.
Both the actors are seen posing with guns in their hands. Tupac Shakur on the left and Sidhu Moose Wala on the right.
Both artists were close to
their mother Tupac was very close to their mother and the same similarity was seen in Sidhu Moose Wala.
Tupac's mother, Afni Shakur, was a political activist and a member of the American political party Black Panther. At the same time, Sidhu's mother Charan Kaur won the election of sarpanch in December 2018 from village Musa in Mansa, Punjab. He defeated Manjeet Kaur of the village with 599 votes.
Tupac's glimpse is found in Moosewala's last song
Sidhu Moosewala released the song 'The Last Ride' 2 weeks ago. In this song, Sidhu told about the achievements of his musical career. He had said in this song that he has created twice the status of his age. A glimpse of Tupac is also seen in the video of this song by Sidhu. He has Tupac's photo printed on his shoe with 'Legend' written on it.
Hip-hop music fans have been comparing Tupac and Moose Wala in the past. Two years ago, Sidhu's fans had made Tupac and his painting on the wall in Pathankot.
Tupac Sidhu Moose Wala, who was an important part of Moose Wala's life, often shared the words or words of Tupac Shakur on social media. All Eyes on Me, a biopic on Tupac, was released on June 16, 2017. Sidhu also shared a scene from this film on his Instagram account.
Tupac's Museum in Los Angeles The 'Wake Me When I'm Free
The museum was built in Los Angeles, the USA to showcase the life and music career of Tupac Shakur. The 'Wake Me When I'm Free' museum was opened on 21 January 2022. The museum includes copies of Tupac's handwritten lyrics, clothes worn in music videos, a music studio mixing table, and a sculpture of a black-painted hand fist that is shown in favour of blacks.
Tupac is also considered the 'One of the Best Rapper of All Time' in the world. His name is recorded in the Guinness Book of World Records as 'Highest Selling Rap Artist. Most of today's big and famous rappers consider Tupac as their idol.
On September 7, 1996, Tupac was returning after watching Mike Tyson's boxing match with some of his friends. Then on the way, the attackers started firing on them and they were hit by four bullets one after the other. After this, he was immediately taken to the hospital but after fighting to the death for six days, he died on 13 September 1996.