Sidhu Moosewala Murder: Police get 8-day remand of gangster Bishnoi, will be kept in SSOC
Gangster Lawrence Bishnoi was produced in Amritsar court under tight security on Tuesday morning. Amritsar Police has got 8 days remand of gangster Lawrence Bishnoi, accused of Sidhu Moosewala murder case.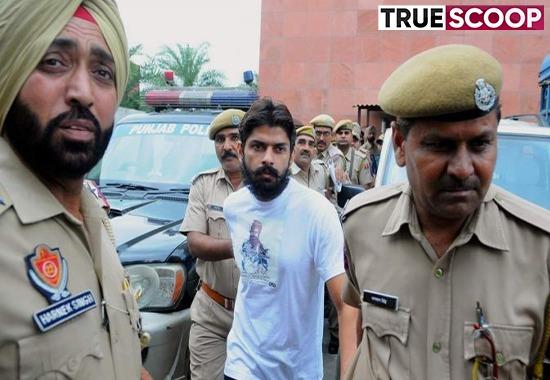 -

Amritsar Police have obtained 8-day remand of gangster Lawrence Bishnoi, who is charged with the murder of Sidhu Moosewala. On Tuesday morning, he was presented in court in Amritsar while being closely guarded. He will be questioned during the remand in relation to the murder charges of Sidhu Moosewala and Rana Kandhowalia.

At 12:30 p.m. on Monday, Lawrence was brought to Amritsar under heavy security. After being presented at Mansa court on Monday evening, Lawrence Bishnoi was detained on transit remand by Amritsar Police. The State Special Operation Cell (SSOC) at Mal Mandi in Amritsar is where Lawrence Bishnoi is being kept.

Even before Lawrence's arrival, various security agencies of Punjab were present in the SSOC. SSOC's security has been tightened much more than before. There are armored vehicles and black commandos outside. Added three layers of security. CCTV cameras were also placed in addition to this. Lawrence Bishnoi was questioned by the police regarding the Sidhu Moosewala murder case all night long. Bishnoi was not permitted to sleep during the entire night, and neither were the police.

Also read: former DGP of Punjab Dinkar Gupta takes charge as NIA chief

On Tuesday at 8:30 a.m., Lawrence Bishnoi was brought before the court in Amritsar. Earlier the whole city was converted into a cantonment. Security was increased. The whole courthouse complex was locked up. All routes leading from the cantonment to the court, including Kachari Chowk, Rani Ka Bagh, and others, were shut down. Following Lawrence's court appearance and acceptance of the remand, the Amritsar police drove him to the SSOC headquarters. Lawrence will be questioned in the same office during his remand.