Published On
Sidhu Moosewala's father Balkaur Singh's gunman shot at a wedding, watch video
Balkaur Singh's gunman was shot by another gunman who was also present at the wedding Author :
Guneet kaur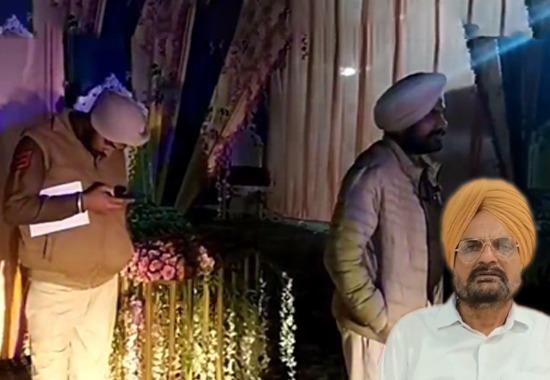 Punjabi slain singer Sidhu Moosewala's father Balkaur Singh's gunmen shot another security personnel during a wedding ceremony in the Mansa district of Punjab. Reportedly, the incident took place on 11th December 2022, when both gunmen were attending a function. Police have registered a case against the accused and an investigation is being carried out.
As per the information received, both gunmen were employees of the Punjab Police. It was on Sunday that Balkaur Singh's gunman Navjot Singh went on leave to attend a wedding function. Another gunman named Gurvinder Singh was also there for the same function. During this, an argument took place between the two, post which in anger Navjot Singh fired at Gurvinder Singh with his service revolver. Soon after this Gurvinder Singh was taken to the hospital and doctors informed that his condition is stable.
A case has got registered against Navjot Singh by Punjab Police for committing the crime. Further action will be taken after recording the statement by the victim. Also, the investigation is being carried out against him as it is forbidden to carry licensed weapons during any personal functions, but Navjot Singh still carried the revolver.
Sidhu Moosewala's father Balkaur Singh has been receiving various death threats from gangsters after his son was shot dead. So, in order to provide security to him from any mis happening two gunmen Gurvinder Singh and Navjot Singh were appointed for his security.
Watch Video
Gunman Navjot Singh, who was guarding the Sidhu Moose Wala's father Balkaur Singh Sidhu, opened fire on the another gunman Gurvinder Singh, after an mutual altercation at a wedding ceremony in #Mansa. Balkaur Singh was not present on the spot: Baldev Singh, SHO City-2 Mansa pic.twitter.com/d1VDPtKoxG

— Nikhil Choudhary (@NikhilCh_) December 11, 2022