Sikh man attacked by mob in Jabalpur; SGPC demands legal action from Madhya Pradesh CM
The Sikh man in the Jabalpur Viral Video is a Congress leader named Narendra Singh Pandey and he has already filed a complaint to the Police.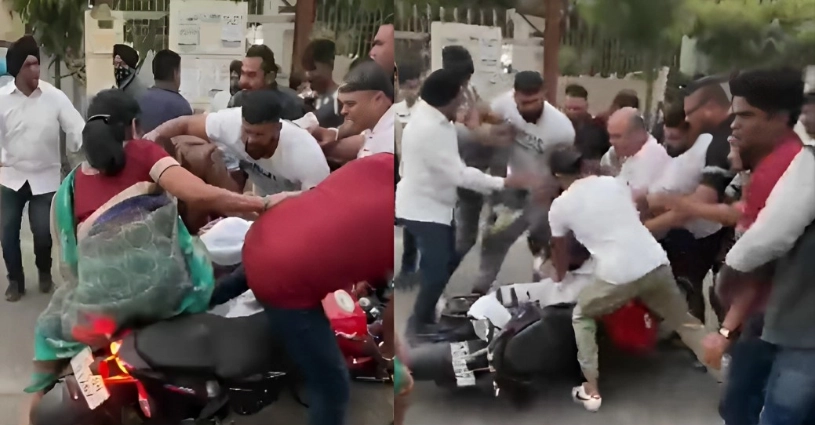 -

A disturbing video on Saturday went viral on social media in which a Sikh man was brutally assaulted by a group of men in Jabalpur, Madhya Pradesh. In the Jabalpur viral video, it can be seen a group of men suddenly attacked a Sikh man due to which he fell on the ground. A woman sitting behind him also fell down from the bike. Despite being a woman present, the men continued to kick and punch the Sikh man. Now, the Shiromani Gurdwara Parbandhak Committee (SGPC) has taken cognizance of the matter and appealed Madhya Pradesh CM Shivraj Singh Chouhan to take strict legal action against the men involved in the case.


Shiromani Gurdwara Parbandhak Committee took to its official X handle, formerly known as Twitter, and wrote, "SGPC President Harjinder Singh Dhami has taken notice of a viral video from Jabalpur, in which, a Sikh is seen being assaulted by some men. He said that such an incident of assault with insult to Sikh turban and Kes (unshorn hair) is highly unfortunate and strongly condemnable. The SGPC President has urged @MPPoliceDeptt
and @CMMadhyaPradesh @ChouhanShivraj to look into the matter to take action against the culprits and justice to the victim.

The incident took place near Gurdwara Sahib, Prem Nagar in Madan Mahal area of Jabalpur, where a local Sikh, Narender Singh, was brutally assaulted by some men (as seen in video) with legs and fists, during the Madhya Pradesh state assembly elections yesterday. As per report that we received, Narender Singh is undergoing treatment at a medical college in Jabalpur and so far, the police did not take action against accused persons."
What is the Jabalpur Sikhman beaten case?
As per reports, the Sikh man is a Congress leader named Narendra Singh Pandey. He was brutally assaulted by some unknown miscreants in the Gorakhpur area of Jabalpur District in Madhya Pradesh. The Congress leader has filed a complaint with the police at a Gorakhpur police station, alleging assault on him. However, the police said that it was a mutual dispute.
Narendra Singh reportedly in his complaint said, "There is an open gym outside my house. A liquor party happens every day in the gym." The Congress leader stated that people create a ruckus on the road after drinking alcohol at those parties in the gym. "Due to this, the environment of the entire locality is getting spoiled. Also, women cannot step out of their homes due to this," he alleged.