Published On
Sirf Ek Banda Kaafi Hai True Story: Real advocate PC Solanki says 'Film wrongly publicised'
Real-life Lawyer PC Solanki on whom the movie is loosely based, is not happy with Sirf Ek Banda Kaafi Hai makers over claims that the story is based on him. Author :
Malkit Singh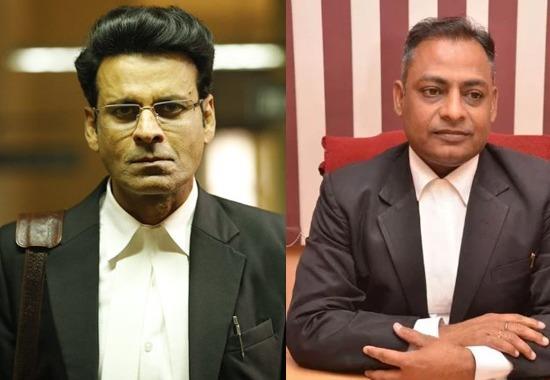 Bollywood veteran actor Manoj Bajpai who is affectionately called the 'King of OTT' due to his back-to-back hits on streaming apps, is back again with a bang. Among the much-awaited series of this month, Sirf Ek Banda Kaafi Hai was released on May 23, 2023, on Zee5, and in no time it started buzzing on social media. Not only this, Sirf Ek Banda Kaafi Hai received massive praise from critics with many saying that the courtroom drama is the best performance of Manoj Bajpayee till now. Directed by Apoorv Singh Karki, 'Sirf Ek Banda Kaafi Hai' is said to be inspired from the real-life advocate Poonam Chand Solanki aka PC Solanki who was the man that ensured the 16-year-old minor gets justice in the infamous Asaram Bapu case. However, PC Solanki was recently quoted by IANS in which he expressed his displeasure with the makers and raised questions that how they can say that Sirf Ek Banda Kaafi Hai is a true story if they did not any NOC from him? Sirf Ek Banda Kaafi Hai is being praised for its storyline and impeccable acting by the actors. Its star cast includes Manoj Bajpayee, Ajay Soni, Nikhil Pandey, and more in the lead roles. Since you have landed on this page, True Scoop News assumes that you have already watched Sirf Ek Banda Kaafi Hai and have multiple questions regarding the real-life advocate PC Solani or moreover PC Solanki's role in the Asaram Bapu Case. To know the answer continue reading-
Is Sirf Ek Banda Kaafi Hai a true story
As the trailer says, Sirf Ek Banda Kafi Hai is loosely based on the self-styled godman Asaram Bapu's case that sent the entire nation in shock nearly a decade ago. In the movie, Sirf Ek Banda Kaafi Hai, Manoj Bajpayee portrays the character of Advocate Poonam Chand Solanki. However, real-life Lawyer PC Solanki on whom the movie is loosely based is not happy with the makers. "I have taken the legal recourse in this matter. How can it be claimed that the movie is inspired by real-life events involving me when no NOC was collected from me, nor the script was approved by me? Those who signed an agreement with me sold the rights without informing me," Solanki told IANS adding that in the initial the agreement signed with him was for a 'biopic'.
Solanki further said, "I have filed a case in the trial court and notices have been served to the producers and others. Imagine, in June 2021, they signed an agreement with me and in September, they sold the rights to another party... How can they do it," Solanki questioned.
Solanki also informed that he was kept in the dark that the rights were sold and even the party that bought it did not inform him. Solanki also lambasted the way the advocate has been 'portrayed' as a hero in the film, saying, "I am not a hero, I simply discharged my duties as a lawyer. As the script was not shown to me, I don't know what fictional or non-fictional matters they had collected, or whether they could do it legally."
Talking about Sirf Ek Banda Kaafi's storyline, it follows Manoj Bajpayee's character, PC Solanki, a lawyer, fighting the case for Nu Singh, played by Adrija. Nu is a minor who was sexually assaulted by the self-styled godman, played by Surya (he is referred to as 'baba' in the film). In the movie, Solanki is a simple man living in Jodhpur with his mom and son. In the film, only Solanki's name remains unchanged, while others are given screen names.
Who is the real Advocate PC Solanki?
As per the Asian Age ,PC Solanki belonged to a very humble background. His family belonged to Darzi community. Despite his family's financial problems, his parents ensured that all the children got a good education. "I was enrolled in the central school, which was not easy in those days,"PC Solanki was quoted by a news portal. After he joined the bar in 1996, his first big moment came in 2002. He had filed a PIL against the immersion of Ganesh idols made of Plaster of Paris in Gulab Sagar near the historic Ghantaghar after he saw thousands of fishes dying in the polluted water. The high court imposed a ban on the immersion of idols in the lake. Notably, when PC Solanki was fighting the case against Asaram he went up against lawyers like Ram Jethmalani, Salman Khursheed, Subramanian Swamy, and KTS Tulsi who were among the 30 lawyers Asaram changed for his defense. In his interview, PC Solanki revealed that he was offered crores of money and was also threatened to not take the case of the 16-year-old victim.
Real vs Reel: Is Sirf Ek Banda Kaafi Hai a true story based on the Asaram Bapu case?
Asaram Bapu case in a nutshell
For those who are unaware of the details of the Asaram Bapu case- Self-styled godman Asaram was sentenced to life imprisonment by a Gandhinagar Sessions Court in a rape case registered against him in 2013. While Asaram was convicted of the heinous crime, the other six accused, including his wife Laxmiben, their daughter, and four disciples, were acquitted due to lack of evidence. Notably, Asaram was lodged in a Jodhpur jail, where he was serving a life sentence in another case of raping a minor girl at his ashram in Rajasthan in 2013.