Published On
South actress Sai Pallavi compares 'Kashmiri Pandits exodus with cow vigilantism' leaving sparks row
Sai Pallavi Statement on The Kashmiri Files: Sai Pallavi is one of the most popular and most followed actresses of the South who has carved a niche for herself in the last few years.
Author :
Rohit Gupta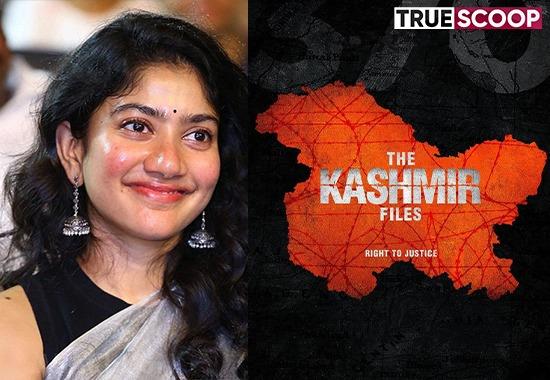 Sai Pallavi Statement on The Kashmiri Files: Sai Pallavi is one of the most popular and most followed actresses of the South who has carved a niche for herself in the last few years. She has worked in many great films in the Tamil, Malayalam and Telugu film industries. Many films of the actress have also done tremendous business at the box office and big Bollywood director Karan Johar is also her big fan.
The actress may be praised for her acting, but she is being criticized a lot for her recent statement.

Sai Pallavi family has recently reacted to Kashmir Files in a conversation with a YouTube channel Great Andhra but it seems that fans are unhappy with her views. When the actress was asked about her political stance, she did not shy away from excluding some practices from the country, which she finds unfair.
She says, 'I grew up in a neutral family where I have been taught to be a good person. I was told that I should protect those who are sad and in some trouble. The oppressed must be protected, whatever their stature. I have heard of leftist and rightist. But, we cannot tell with certainty who is wrong and who is right.
Sai Pallavi's statement on 'The Kashmiri Files'

Meanwhile, Sai Pallavi said that Vivek Agnihotri's film 'The Kashmir Files' also gave this reaction. She said, 'Kashmiri files showed how Kashmiri Pandits were killed (Kashmiri Hindu exodus) at that time. If you are taking the issue as a religious conflict, recently a Muslim driver carrying cows was beaten up and forced to chant 'Jai Shri Ram. So where is the difference between these two events? We have to be good people. If we are good, we will not hurt others.
Elaborating on this idea in detail, Sai Pallavi said, 'To answer your question, if you are not a good person, justice will be neither on the right nor on the left. I am very neutral… so I believe if you are more powerful than me and oppressing me, then you are wrong. It is wrong to oppress a small group of people in large numbers. The fight should be between two equals..'
Users' reaction to Sai Pallavi's statement
There have been mixed reactions on social media to Sai Pallavi's statement. While some Twitter users are justifying his statement but most people are trolling her. People say that the actress needed to think before making such a statement and many called it cheap.
@RupaliJyoti wrote, 'Unfortunately your family does not have correct information about the Hindus of Kashmir. To date, Hindus of Kashmir are killed because of their religion. If an exodus of 3 lakhs is equal to a cow smuggling case. How dumb are you @Sai_Pallavi92'.
Kashmiri Hindu expressed pain with Sai Pallavi
Kashmiri Hindu @BattaKashmiri wrote, 'Dear @Sai_Pallavi92 There is a huge difference between a random Muslim being beaten up and an entire community uprooted. Please don't underestimate my pain. Come and take a peek at any of our broken homes and hearts. We are witnesses to the massacre but await justice. Not everything is propaganda.
@esoteric_abh wrote, the same issue everywhere. Most people think about issues in the same way, probably because they have no sense of struggle.
Talking about the work front, Sai is these days ready for the release of his next romantic action-drama film Virat Parvam, in which she will be seen flirting with Rana Daggubati. The film is directed by Udugula Venu and is a love story of a young girl who falls in love with Ravana, a Naxalite leader. Apart from Pallavi, Priyamani is also playing an important role in the film.