Published On
Special Report: Untold story of 677 days of investigation of Sushant Singh Rajput's death
The top three agencies CBI, ED, and NCB are involved in investigating Sushant Singh Rajput's death case but still, the mystery is unsolved.
Author :
Chanderveer Singh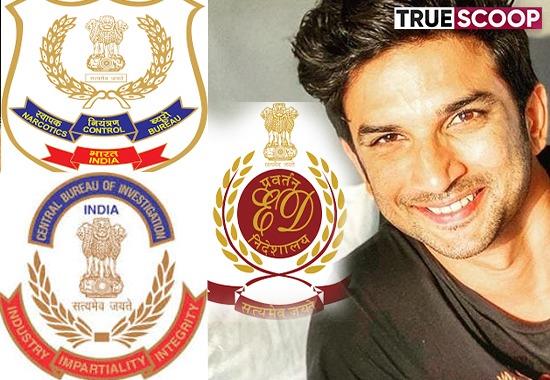 Sushant Singh Rajput was found dead on 14 June 2020 at 601, Mount Blanc, Bandra, Mumbai.
Story of 14th June 2020
- On 14 June 2020 besides Sushant four people Siddharth (creative manager), Neeraj (cook), Keshav (house staff member), and Dipesh (domestic helper) were there at home.
- Near about 9:30 in the morning Keshav went to Sushant's room with banana, coconut water, and juice. Sir only took coconut water and juice.
- Around 10:30 AM Keshav again went to the room to ask about the menu of lunch but the room was locked from the inside.
He knocked too many times but there was no response.
- He told this to Dipesh and Siddharth, they too went to the room but didn't get any response.
- Siddharth call Sushant but still, there was no response. They started searching for the master key but couldn't find it.
- They asked Meetu dee (Meetu Sister, Sushant's sister), and she said you guys open the door, I'm on the way.
- Siddhant called the key maker at around 1:30 PM and tried a lot but failed to open the gate at last they broke the lock.
- Now they went inside the room, AC was on but the light was off.
Dipesh turned the light on and saw Sushant's face was towards the window and he was hanging with the ceiling fan.
They shouted and came out of the room.
- Around 2:30 noon, Mumbai police reached and sealed the area.
- At 11:30 in the night, Sushant's post-mortem was done.
- Sushant's brother-in-law and IPS officer OP Singh doubted it to be a suicide. According to him, it was a murder, and Sushant was strangled to death.
What does the Advocate say?
Advocate Vikas Singh, who is fighting the case on behalf of Sushant Singh's family, has raised this question, "Sudhir Gupta of AIIMS, who has called Sushant's death a suicide, had told me orally that the mark on Sushant's neck is a mark of strangulation, not of hanging. Later, it was Gupta who called it suicide. I am still asking the same thing, where Sushant was found hanging, there was a bed next to him. If he struggled, he would go to bed. When hanging, the bed was touching his body. So how can he die?"
Why is the investigation taking time?
It's been 2 years since Sushant's death. The country's three big agencies CBI, NCB, and ED are involved in this case, but the result is still pending.
The CBI registered the case on 6th August 2020.
It has been 677 days since the investigation started, but the agency has not reached any conclusion.
Whereas, for the investigation of this case, the central agency has engaged four senior officers, IPS Manoj Shashidhar of the 1994 batch of Gujarat cadre, IPS Gagandeep Gambhir of 2004 Gujarat cadre, IPS Nupur Prasad of the 2007 batch, and SP Anil Yadav in CBI.
Let's know where the agencies' investigation has reached
CBI
In Sushant's death case, the CBI has neither made a single arrest nor filed any charge sheet to date. Although the CBI had registered a case against 6 people including Riya in this case, in the last one and a half years, still no concrete evidence has been found.
While the CBI team interrogated Riya's family for hours. There was also a long questioning of Sushant's staff and family. The entire crime scene was recreated at Sushant's house. There were also questions and answers with the doctors of Cooper Hospital and the officials of Mumbai Police who arrived first.
In November 2021, the CBI also sought help from the US. The CBI wanted to see the deleted data from Sushant Singh's email and social media accounts. Maybe there's a link to this. There is no information about whether the CBI got this data or not.
NCB
All the arrests made in the case related to Sushant have been done by NCB only. Sameer Wankhede, who was the head of NCB's Mumbai zone and investigated the entire case related to Sushant, says that in Sushant's death case, we accused about 30-31 people.
A total of eight and a half kilograms of drugs were recovered in this case. We arrested from paddler to supplier. Now further action is on the Judiciary. Many people including Siddharth Pithani are still in judicial custody.
On the other hand, senior lawyer Tarak Syed, who is fighting the case of Siddharth Pithani, said that NCB unnecessarily linked every case to Sushant's death, while the ground reality was something else.
The whole drama was done to change the nature of Sushant's case. Riya and Sauvik have got bail. Siddharth will also get it soon.
ED
Based on the FIR lodged by Sushant's father KK Singh in Patna, the ED had registered a money laundering case against Riya Chakraborty and her family in connection with Sushant's murder. The ED also interrogated Riya Chakraborty and her family, but nothing special came out.
But the ED, which was found to have a drug connection during the investigation, had requested the NCB to join the investigation. Sushant's father had alleged that Riya had embezzled Rs 15 crore from Sushant's account. ED still got nothing in this case.
Family's reaction
Brother-in-law hung up on hearing Sushant's name. OP Singh, a senior IPS officer, and brother-in-law of Sushant Singh hung up the phone upon hearing our questions. After Sushant's death on June 14, on June 15, OP Singh was the first to demand a probe into the whole matter.
Sushant's father KK Singh says, "Where is the matter stuck, I do not know. The investigation is with the CBI, only they can tell. Nothing happened since then. The agency did not even contact us. Will see what happens when they file the charge sheet."