Published On
SpiceJet flight encounters turbulence during descent, 17 people injured; investigation underway
Following adverse weather conditions, the SpiceJet Boeing B737 aircraft, flying from Mumbai to Durgapur, met severe turbulence during descent on Sunday
Author :
Nishtha Jairath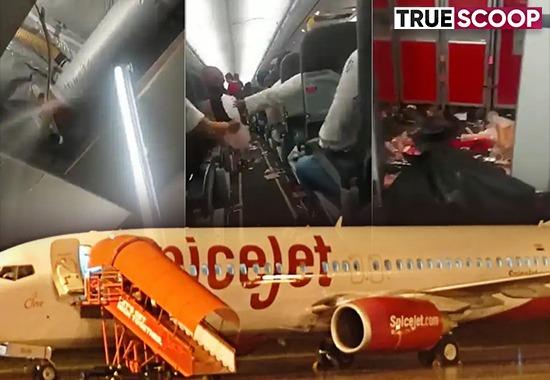 Following adverse weather conditions, the SpiceJet Boeing B737 aircraft, flying from Mumbai to Durgapur, met severe turbulence during descent on Sunday, injuring at least 14 passengers and three cabin crew members. The Directorate General of Civil Aviation (DGCA) said this morning that a regulatory probe into the event has been ordered.

"Some of the passengers needed stitches for head injuries, while one passenger claimed to have had a spinal injury as a result of the accident," according to the DGCA.

"We're dispatching teams for regulatory investigation, and medical reports from the injured passengers are pending," the statement continued.

Visuals were also captured of the terrifying moments, showing the belongings of passengers scattered on the floor when the aircraft began to hobble the air hostess tried to calm and reassure the passengers.

According to one passenger, their masks fell off during mid-flight turbulence, and cabin bags landed on many of them, causing head injuries.
"During the fall, there were three jerks. It was a lot more intense than driving in a car" another passenger remarked.

The flight, on the other hand, landed safely at West Bengal's Durgapur airport, and the injured were promptly brought to a hospital for treatment by airline personnel.

Later, SpiceJet expressed regret over the incident

The SpiceJet spokesperson wrote "On May 1, SpiceJet Boeing B737 aircraft operating flight SG-945 from Mumbai to Durgapur encountered severe turbulence during descent which unfortunately resulted in injuries to a few passengers. Immediate medical assistance was provided upon the aircraft's arrival in Durgapur."