St. Patrick's Day 2023 USA: What's closed and what's open in America on March 17?
St. Patrick's Day 2023 is an Irish festival, however, it holds great significance in the United States of America.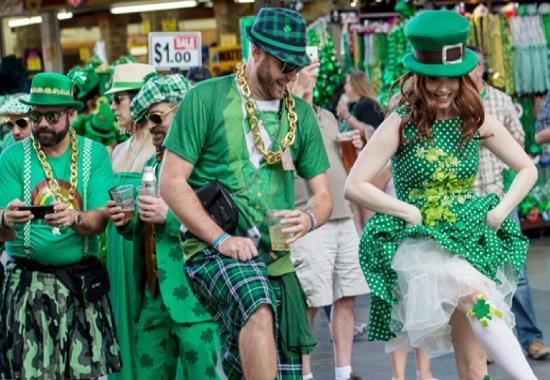 -

It is time to go crazy and celebrate the Irish festival of Saint Patrick's Day 2023. On March 17, 2023, America, Ireland, and many countries with Irish roots and settlements will celebrate Saint Patrick's Day 2023. St. Patrick's Day 2023 is an Irish festival, however, it holds great significance in the United States of America. It is mainly due to the massive number of Americans with Irish roots. More than 1 in 10 people in the US have ancestors who left Ireland, including US president Joe Biden, who proudly proclaims his ties to Ireland. In fact, Chicago's iconic river turned green continuing its 60-year-old tradition to commemorate St. Patrick's Day 2023. During the COVID lockdown, St. Patrick's Day was not much celebrated last year, however, this year, the people of America are expected to have a blast. Especially the streets of Chicago, Boston, or New York City are expected to be filled with the people celebrating. Now, the question arises whether USA's Saint Patrick's Day 2023 is a public holiday or not?

The answer is a big no. St Patrick's Day is not a federal holiday in the United States. Schools, businesses and organizations are open as usual. Public transport systems run on their regular schedules. There may be some local disruption to traffic due to St Patrick's Day parades. This is particularly true in cities with a large Irish-American population, including New York, New Orleans and Seattle. The parades may be on or around March 17, so it is a good idea to check local sources for the exact location, date and time.

St. Patrick's Day parade in the USA-

Celebrations concentrate on Irish themed parties, drinks and food. Many people get into the spirit by dressing in green clothing and eating green colored food. Irish clubs and pubs often hold parties or have special deals. Large street parades mark St Patrick's Day in places like:

Savannah

Chicago

Boston

Houston

Philadelphia

Pittsburgh

Denver

Detroit

Dunedin St Patrick's Day: 'Intoxicated & naked' man arrested for running around school in New Zealand

Toronto

New York

New Orleans

Seattle

What is Saint Patrick's Day?

Saint Patrick's Day is a cultural and religious celebration in honour of Saint Patrick — the foremost patron saint of Ireland. It is observed every year on March 17, the traditional death date of the saint. It is observed as a public holiday in Ireland, Northern Ireland, and many other countries around the world including the United States, Canada, and Australia. The celebrations of St Patrick's Day are marked by parades, music, dance, and the wearing of green attire.

Green holds a great significance in terms of Saint Patrick's Day. The colour green, in general, is strongly associated with St Patrick's Day for several reasons. Ireland's nickname is the 'Emerald Isle' due to its lush, green landscape, and therefore green is considered the national colour of Ireland. Also, legend has it that St Patrick used a shamrock, which is green, to explain the Holy Trinity to the people of Ireland. Let's turn the wheel back into the 18th century. Green became associated with Irish nationalism and the country's struggle for independence from British rule. As such, apart from dyeing the Chicago River green, people all over the world wear green clothing and accessories on this day to show their Irish pride and celebrate the holiday.