Published On
Star players of Commonwealth Games return home, warm welcome on arrival at Amritsar Airport
The players were first welcomed by the officials of the Customs Department with applause
Author :
Samriti Bharadwaj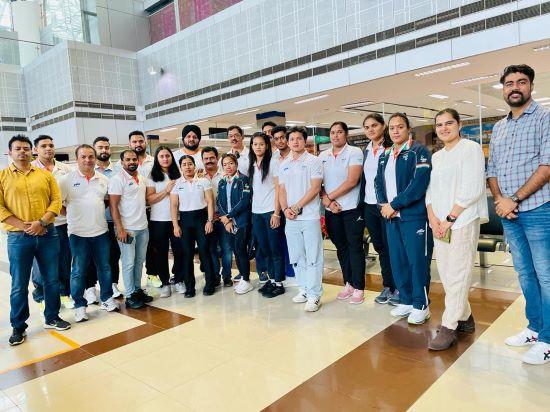 Players who won medals for India in the Commonwealth Games received a warm welcome on their arrival at Amritsar Airport today. On behalf of the Punjab government, DC Amritsar and other officials welcomed them. They were greeted by everyone at the airport with a tilak, cheers, and flowers. All of the players then departed for Patiala, where they will be honored.

As soon as they landed at Amritsar Airport, the players were first welcomed by the officials of the Customs Department with applause. After this everyone got a group photo done. Further, the senior officer of Punjab, DC Harpreet Singh Sudan stood to welcome him. All the players were welcomed with tilak and garlanded flowers.

Talking to reporters on this occasion, various players said that they are feeling very proud to win medals for the country. They said that the best performance has been given by all the players but we will try to bring more medals for the country in the next Commonwealth Games. They are very excited.

On this occasion, the family members of Amritsar player Lovepreet Singh and the villagers welcomed him and said that Lovepreet has won a medal for the country in the Commonwealth Games. He is their pride. They hope that Lovepreet will shine the name of our country in the world in the same way.

Also read: CWG 2022: Bajrang, Sakshi, Deepak bag gold each on another successful day for India at Birmingham

Deputy Commissioner Amritsar Harpreet Singh Sudan, who came to honor the players on this occasion, said that today it is a matter of pride that the players who won medals for the country in the Commonwealth Games are warmly welcomed at Sri Guru Ramdas Ji Airport, Amritsar. We appeal to the young generation to maintain their enthusiasm for sports and strive to shine the name of their country. We congratulate the winners of the Commonwealth Games.