Stubble burning cases to rise in upcoming days over Paddy crop cutting; breathing troubles may shoot up
For the next 10 days, the weather is forecasted to cause breathing troubles due to the heavy smog that the large amount of stubble burning will cause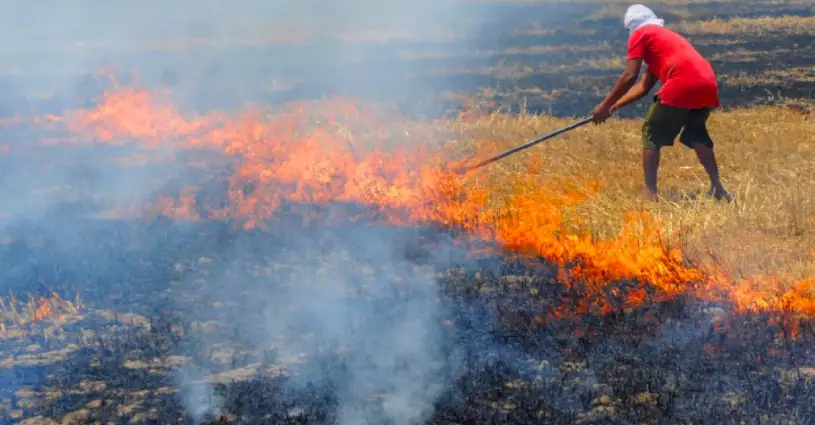 -

Amidst the looming threat of severe air pollution, the Supreme Court and the Punjab Government have been closing in on one of the main contributing factors to the deteriorating air condition in Punjab, which is stubble burning. Despite the threat of legal action against those partaking in this, the stubble burning cases have seen an increment in their numbers with more than 30,000 cases filed in Punjab, even recording 1150 cases last Sunday.

For the next 10 days, the weather is forecasted to cause breathing troubles due to the heavy smog that the large amount of stubble burning will cause. The AQIs of the major cities have reached a concerning amount. Heavy penalties have been handed to farmers responsible, as more than 6,000 farmers have been penalized, with the aggregate fine amounting to 1.5 crores. 334 farmers have been booked for Police reprimand under section 188 of the IPC.

Punjab produced 175 lakh tonnes of paddy, out of which 171 lakh tonnes have been purchased. By the 30th of November, the paddy output is expected to be a record high of 200 lakh tonnes, with 2 to 3 lakh tonnes of paddy being produced every day.

The temperature is also forecasted to drop on the 19th of November due to western disturbances recorded in the Himalayan region, resulting in clouds that will exacerbate the foggy weather. Even breathing is expected to be a struggle in the heavy smog that is forecasted for the next 10 days.