Published On
Super Bowl 2023 Live Streaming: When & Where to watch the Eagles vs Chiefs match in India?
The Super Bowl 2023 will kickstart with Philadelphia Eagles taking on the Kansas City Chiefs in Arizona, USA. Author :
Ujjwal Samrat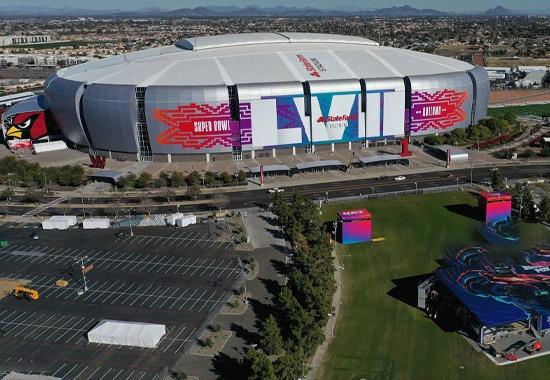 The world is all braced up for the famous NFL as the American Super Bowl 2023 is just hours away. The Super Bowl 2023 will kickstart with Philadelphia Eagles taking on the Kansas City Chiefs in Arizona, USA. Despite being an American sport, NFL Super Bowl is widely followed around the world, and ever year fans remain eager to witness the American Football legends in action especially Tom Brady and others. Like previous years, the 2023 Super Bowl is expected to be one of the largest sporting events ever in the world. As per US media reports, the Super Bowl 2023 is expected to attract more than 150 million viewers in the US alone, whereas a total of 63,000 people are expected to attend the match at the venue. Due to its following, the Super Bowl always attracts Hollywood actors and singers. In the 2023 Super Bowl, pop-star Rihanna will be performing at the halftime show. With the hype around American football so much, fans sitting in their home around the world are wondering about the 2023 Super Bowl live streaming or Super Bowl 2023 streaming time. To know about Super Bowl 2023 streaming date, time and platform, continue reading-
Super Bowl 2023 streaming details
NFL Super Bowl 2023 is being played in Arizona. Philadelphia Eagles will take on the Kansas City Chiefs. 2023 Super Bowl Eagles vs Chiefs live streaming will be on Feb. 12, 2023 (Sunday). Coming to Eagles vs Chiefs live streaming time, it will be aired at 6:30 p.m. ET on Fox Network. The FOX television network plans to broadcast Super Bowl LVII live, so you can tune in on your television set via your local FOX affiliate station—whether or not you subscribe to cable TV or satellite TV. The Super Bowl online live streaming is also being done via the FOX Sports and NFL mobile apps. In addition to working on all iPhones, iPads, and Android mobile devices, the FOX Sports app is available on AppleTV, Roku, Google Chromecast, FireTV, AndroidTV and other streaming devices, as well as through Xbox. To use the NFL mobile app, you need to be an NFL+ subscriber. If you're not a cable or satellite TV subscriber but want to watch the game on your smart TV, you'll need to subscribe to Hulu + Live TV, YouTube TV, FuboTV or Sling TV to access Fox Sports. If you're not already a paid subscriber to one of these services, you can typically sign up for a free trial, but be sure to do this before the game.
Super Bowl 2023 free streaming online
Super Bowl 2023 online free streaming can also be done through social media especially through Reddit. Crackstreams Reddit is also absolutely free. You can use the social media mentioned here below to enjoy the live streaming: Reddit, Facebook, Instagram, Twitter, Youtube. You need to have an account on any of these social media. If you've all these accounts, then go for the research and get better options. Let's know how you can use these social media for better access and result in detail. On Facebook, you can enjoy the super bowl halftime live-stream performance for free. Well, all you need is to do good research. You'll find various pages or groups of TSO fans. Some of them might stream the event live to share their joy.
Super Bowl 2023 India Live Streaming
Super Bowl LVII match will be played between Philadelphia Eagles and the Kansas City Chiefs on Sunday, February 12. The match will be played at 6:30 PM ET or 5:00 AM IST (Monday, February 13). The venue of the match is State Farm Stadium in Glendale, Arizona. The match will be live-streamed on the Fox News app and website. In terms of India, 2023 US Super Bowl will be aired on Star Sports Network. Notably, there are multiple videos of the NFL that are already present on Disney Plus Hotstar, therefore if Super Bowl 2023 India streaming can also be streamed on the OTT platform.
2023 Super Bowl Half-Time Performance
Super Bowl 2023: When & where to watch Rihanna's live performance after 7 years?
The Super Bowl is renowned for its entertainment and patriotic rituals. Every year, the playing of the national anthem marks the start of the grand event and is a longstanding tradition. This year, country music superstar Chris Stapleton will be singing the anthem. Stapleton has achieved chart-topping success in the country music genre and has received numerous accolades, including eight Grammy Awards.It is reported that pop-star Rihanna will also be performing at the half-time.