This demo was created in less than two weeks by a developer. Below is a post from user TJATOMICA on the Reddit Gaming subreddit that received a lot of attention over the weekend. In the short video, the user shows Superman racing across a Manhattan rooftop and then taking flight, gracefully soaring into the skies.







Unreal Engine 5 has produced an excellent Superman gaming demo.

It certainly appears to be an outstanding demo. According to the title of the original Reddit post, the user explains that this is a demo they've been playing around with and developing on Unreal Engine 5, which, if you didn't know, is Epic Games' most recent game engine to be published for public use.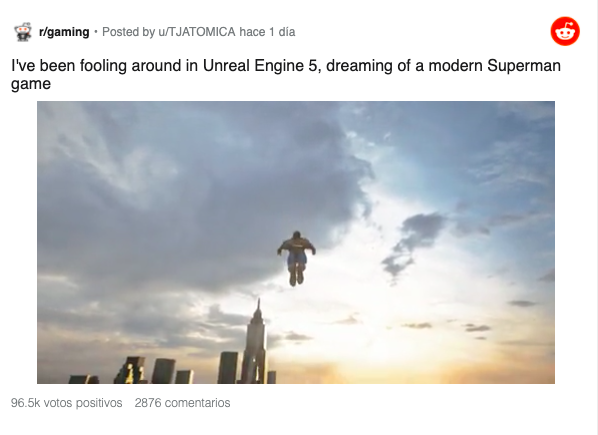 We'd love to see a Superman game like this come to fruition, but it won't be anytime soon. At the moment, DC's video game production is only focused on two titles: Gotham Knights and Suicide Squad: Kill the Justice League, both of which were announced in August 2020.
Also Read: Domino's Data Breach: Indian access blocked, but your data is waiting somewhere to be exploited

In fact, this demo comes just 12 days after Unreal Engine 5 was made publicly available in early access form. The fact that this developer was able to complete this Superman demo in just two weeks is nothing short of incredible, and the final product looks absolutely stunning by any standard.

Gotham Knights were supposed to be released this year, however, it was postponed until 2022. When it does arrive, though, it will feature co-op gameplay with up to four Batman mythos heroes battling similarly familiar villains from the Caped Crusader's past, but without the renowned Gotham superhero leading the charge.

Although Suicide Squad: Kill the Justice League is also set to release next year, it will only be available on PS5, Xbox One X, Xbox One S, and PC. In this multiplayer game, we'll take on the roles of Harley Quinn, Deadshot, King Shark, or Captain Boomerang, and, as you might expect, we'll be entrusted with eliminating the DC universe's biggest league of heroes.