Published On
Swiggy: Delivery executive Dunzo-es it after Bengaluru man orders coffee; 'This is Amazing': Twitter
Swiggy: It seems like Swiggy prefers more memes nowadays. The same incident took today place today in Bengaluru
Author :
Rohit Gupta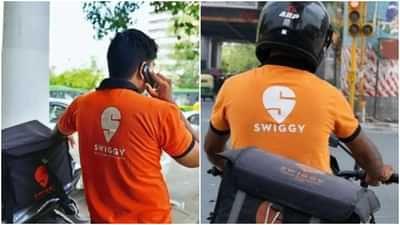 Swiggy: It seems like Swiggy prefers more memes nowadays. The same incident took today place today in Bengaluru. Most of the people living here are those who work in a tech company, while many are fighting for new tech start-ups.
Here people depend on technology for most of their work, but sometimes due to technology, many such stories are seen here. Knowing about which makes us laugh. In recent times, we have come across a similar anecdote among the people.
Where a person ordered coffee for himself from CCD ( Cafe Coffee Day) but the delivery boy played it. It happened that a person ordered coffee on Swiggy at a CCD outlet. After the order is confirmed the delivery agent picked it up and then booked an agent on Dunzo for delivery who would deliver the uh order to the right place and asked the customer to give it a 5-star rating..!
Twitter Reaction:
This tweet was shared on Twitter by a user named Omkar Joshi. Till the time of writing the news, this funny tweet has got more than 2500 likes. Along with this, this tweet has received hundreds of retweets till the time of writing the news.
Apart from this, many other users have given their feedback on this. It looks like Zomato and Swiggy are using Dunzo etc to do their deliveries causing a lot of delays and failed deliveries.
@madmanweb went thru this pain recently Knowing this story, a user wrote, 'Let's spend a few days in Bangalore.' While another user wrote, 'Today I understand why Bangalore is called the silicon valley of India.' Apart from this, many more people have expressed their views on this. and have given feedback.
Today's era is called the age of the Internet. This is because we are completely connected to it. Through this, we can do all our work very easily. Everything is present here, but many times such things are also seen here.

Surprising to know about it, many times such videos also become viral here. Which looks like why we watched this video! In recent times too, a similar video is in discussion among the people. In which it has been told how to eat a banana with a fork.
Often you must have seen people eating banana peeled, but these days a video of a gentleman is going viral. In which he is seen eating a banana with a Folk and a knife. It means to say that he is eating the banana by giving it full respect.
First of all, he cuts the banana kept on the shining plate from one side and then cuts it from the other side, after which he cuts the banana from the middle and then eats it. This video has been shared on Twitter by an account named @historyinmemez.
With which she gave the caption that 'how to eat a banana like a queen.' Thousands of people have seen this video after writing the news. After watching this clip, users are giving their reactions through comments.
One user wrote, 'People are doing anything for fun in today's time.' While another user wrote, 'What is yet to happen in this world, friends.' Apart from this, many other people have also commented on this. Have given your feedback.