Photographs appear to capture our most cherished images, and when they are framed, they become immortal. In related news, Saif Ali Khan's sister, Saba Ali Khan, recently framed Kareena Kapoor Khan and son Taimur Ali Khan's adorable and goofy selfie. Saba also discovered a priceless picture of her nephew Tim and had it framed for her photo shelf.Saba became nostalgic as she put both of the priceless memories on her picture shelf and posted a photo of the framed images on Instagram.
Saba gave us two looks of Kareena and Taimur, as well as her and Tim's framed pictures. The framed portraits, which sat next to each other on Saba's shelf of memories, showed fans how much Saif's sister adores her family members. Kareena and Taimur can be seen posing with humorous expressions in one frame, while Saba can be seen holding Tim in her lap in the other on the swing.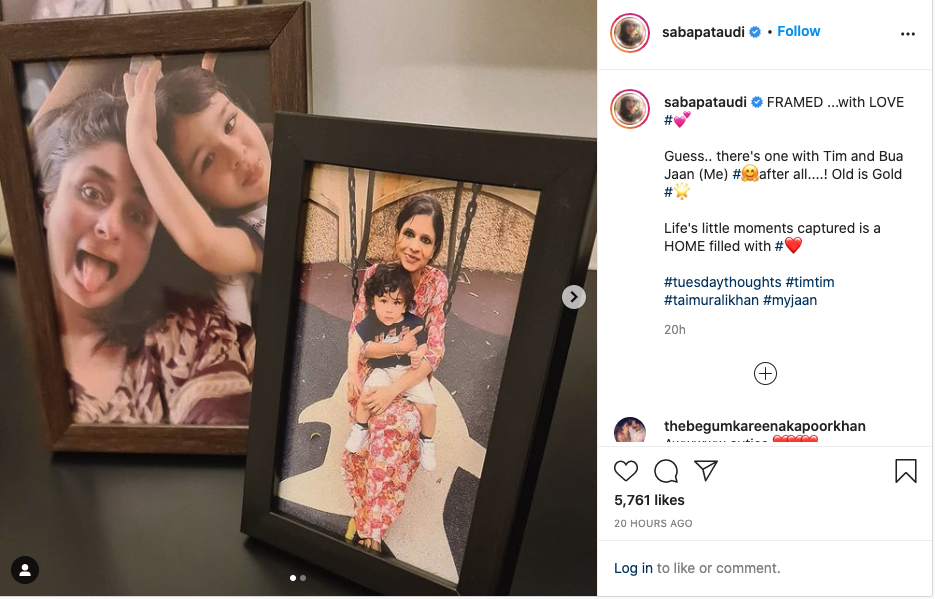 Sharing the photo, Saba wrote, "FRAMED ...with LOVE # Guess.. there's one with Tim and Bua Jaan (Me) after all....! Old is Gold. Life's little moments captured is a HOME filled with."

Sabha also shared a photograph of Taimur that she had framed. It's a never-before-seen photo of the Pataudi prince taken during his early stages. Tim Tim was pictured wearing a white t-shirt with no sleeves and an oversized hat. His adorable features and grey eyes were unmissable in the picture.She captioned the image as, "FRAMED with LOVE #. When I decided to get some family prints made...the photo studio commented .."mam you've given all babies and family pictures. Barely any of you!!" # Well... I Love family moments # #tuesdaymood."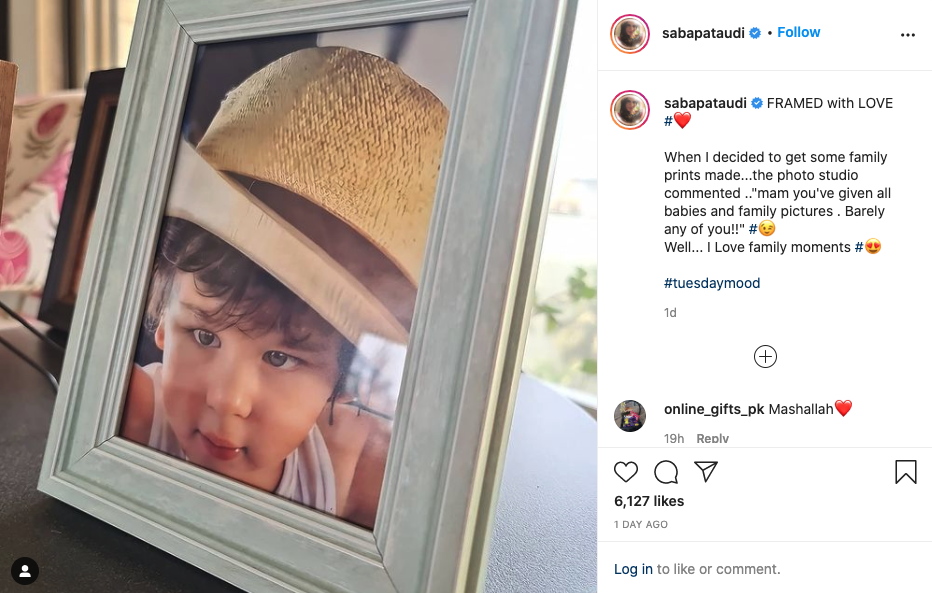 Many have been waiting to see a photo of Kareena and Saif's second son, and nana Randhir Kapoor reportedly posted a photo of Saifeenas newborn but quickly deleted it. However, by that time, the adorable photo of Taimur and his younger brother had gone viral on social media.