Published On
Telangana Viral Video: TRS leaders get angry on being asked for toll fee, beat up employees; watch
The incident took place on Wednesday at Shadnagar Toll Plaza in Telangana
Author :
Guneet kaur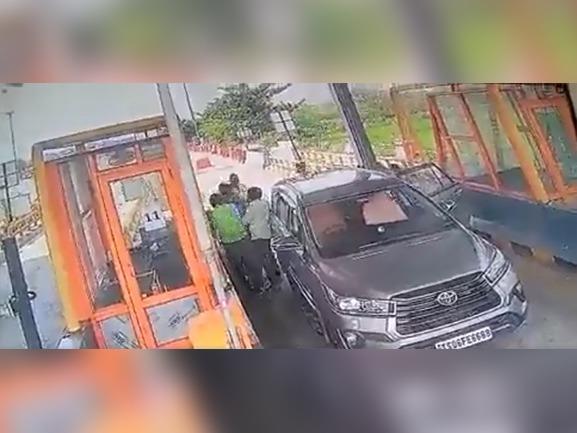 Every person living in the country is treated and should be treated as equal no matter on which post they are appointed. As soon as people reach a certain position, it feels to them that there is no need for them to follow rules and should be treated differently compared to other people. Leaders taking undue advantage of powers is not a new thing in our country.
Another such incident has come to the fore in Telangana were leaders of TRS attacked a group of toll employees just for doing their duty. A CCTV video has also surfaced where the toll attendants can be seen asking for a toll fee in return to which the leaders got upset and thrashed the employees badly. The incident is of Shadnagar Toll Plaza took place on Wednesday morning. The video that has been surfacing shows how the leaders of a party have turned into hooligans.
Reportedly, these leaders also vandalized the toll after their heated argument with the employees. This entire incident was captured in the CCTV installed at the toll plaza. One of the leaders has been identified as the Sarpanch of Nasrulabad.
This is not the first time anything like this has happened. A few days back the same incident took place in Punjab where a youngster who claimed to be SP's son brutally attacked the toll workers for not allowing him to pass through the VIP line.
In this case, the police have registered a complaint from both parties. Shamshabad DCP R Jagdishwar Reddy said that a case has been registered against both the parties, as both had complained. Action will be taken against those who attack and vandalize toll plazas.
Watch Video
IT is Not Uttarpradesh That Trs Leaders Expose All the Way apart where .. But as the Same They Always Hide where the on going incidences Take place.. The incidence From Telangana Trs Leaders sarpanch vandalised Toll Plaza Man Handled to escape Toll Tax#TelanganaRowdies pic.twitter.com/gAFtaIuCUo

— Laddu_9999🇮🇳🇮🇳 (@Laddu_9999) September 22, 2022