Tesla-India Deal: Elon Musk's firm eyeing THESE two Indian states for EV manufacturing plant setup
Elon Musk's Tesla Gears Up for India Entry in 2024, Plans Annual Production of 500,000 EVs and Potential Manufacturing Hub in Gujarat or Maharashtra.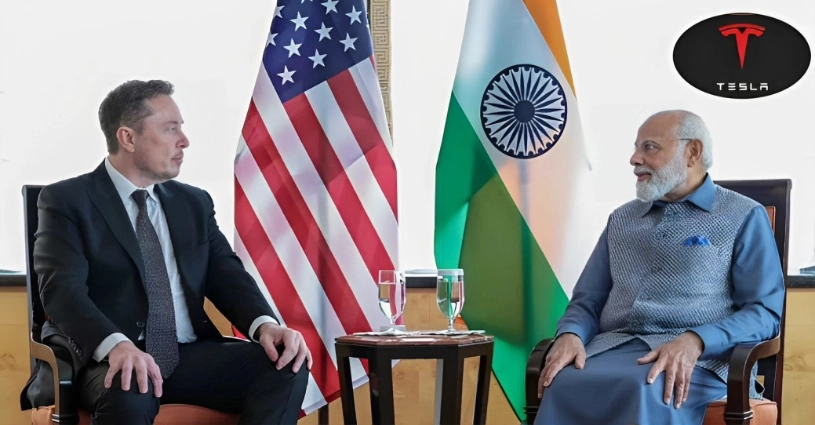 -

In a significant move towards embracing the future of speed, electric car pioneer Elon Musk is charting a course for Tesla's entry into the Indian market. The ambitious plan, set to materialize next year, involves establishing a manufacturing plant, potentially in Gujarat or Maharashtra.

Commerce Minister Piyush Goyal recently undertook a visit to Tesla's manufacturing plant in California, marking a crucial step in the preparations for Musk's anticipated visit to India in January 2024. The visit comes on the heels of Musk's broader strategy to propel electric vehicles (EVs) into the mainstream and position India as a pivotal hub in Tesla's global operations.

Reports indicate that Tesla is evaluating Gujarat and Maharashtra as potential locations for its manufacturing plant in India. With a projected annual production capacity of 5 lakh EV cars, the plant is poised to contribute significantly to India's EV landscape. The entry-level Tesla cars are expected to be priced around Rs 20 lakh, making them more accessible to a broader segment of the Indian population.

Negotiations between the Indian government and Tesla have reportedly resulted in an agreement to reduce import duties, a crucial factor in making Tesla vehicles more competitive in the Indian market. While the specifics of the agreement have not been disclosed, an official announcement is anticipated during Musk's potential visit to India in January 2024.

Elon Musk envisions India as a crucial export base for electric vehicles, aiming to sell 20 million EVs globally by 2030. The plan includes leveraging India's strategic location to serve the Asia-Pacific region. By establishing an EV factory in India, Tesla aims to compete with China-made EVs in Southeast Asian countries, including Australia and New Zealand, while simultaneously tapping into the growing domestic EV market in India.

During Commerce Minister Piyush Goyal's visit to Tesla's California plant, he revealed that Tesla has incorporated India into its supply chain. This marks a positive development for Indian vendors who have been supplying spare parts to Tesla since 2021. The company's increased reliance on Indian components is evident in its plans to double the import of parts, reaching an estimated Rs 16.6 thousand crore by the end of this year, up from Rs 8,300 crore last year.

In addition to EVs, Tesla has outlined plans to manufacture and sell its 'Powerwall' battery storage system in India. Praised by Prime Minister Narendra Modi during his visit to Tesla's California factory, the Powerwall system is a notable advancement in residential energy solutions, allowing users to harness and even sell surplus solar energy to the grid.

As Tesla navigates the stages of preparation for its grand entrance into the Indian market, the convergence of reduced import duties, increased reliance on Indian suppliers, and the potential for local production of the Powerwall system highlight the company's commitment to making a lasting impact on India's electric vehicle landscape. The coming months will undoubtedly witness the realization of Elon Musk's vision for Tesla in India, ushering in a new era for sustainable and high-performance transportation.