Published On
'Thar' Movie Review: Anil Kapoor, Harsh Varrdhan play an entertaining journey but 'Did they lack'
Thar Movie Review: Trust is like a desert, where dust and darkness and sand fly by. The search for water and greenery takes you far.
Author :
Rohit Gupta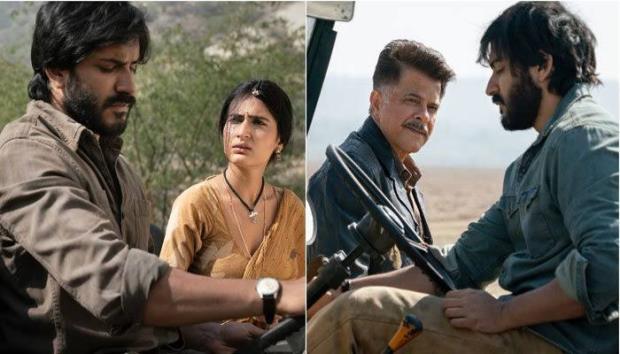 Thar Movie Review: Trust is like a desert, where dust and darkness and sand fly by. The search for water and greenery takes you far. Many a times, courage breaks in this, the thought of giving up also comes. But if the intention is strong, if the trust is strong, then water bursts in the desert, greenery is found.

Anil Kapoor's trust in Harshvardhan has been fulfilled by going to Thar. Thar has been released on Netflix, which has been produced by Anil Kapoor's production company. Father-son i.e. Anil Kapoor and Harshvardhan Kapoor have come together for the first time. With a story where there is no room for romance, no scope for dialoguebaazi… this Thar just adds more story and performance.
Thar is the story of Mahoba, a village adjacent to the outskirts of Rajasthan. And the story is from 1985. Along with the smuggling of opium from near the border, consignments of weapons also reached the border of India via Pakistan.
In a small town, Surekha Singh, who has spent her entire life as an inspector, sees something in the murder case in Mahoba and its surrounding areas, which he considers to be the biggest case of his career.
And also the strings of opium smugglers connect to Pakistan. Surekha's eyes turn to the new in the area, Siddharth, an antiques dealer from Delhi looking for educated laborers to work in Mahoba. But Siddharth's eyes are chewing something else.
Then there is the entry in this story of Chetna, whose husband Panna has come to Mahoba looking for Siddharth. Here another story begins. Panna is not having a child, her husband calls her infertile, kills her. The entry is of Chetna's neighbor and her friend Gauri, who is the mother of a milk-mouthed child, but is fearless. Siddharth takes Panna, his friends Kanwar and Dhanna on the pretext of work to a desolate fort in Mahoba itself and imprisoned and tortures them.

Siddharth, on the other hand, comes close to Panna's wife Chetna. In the midst of all this, Inspector Surekha Singh and Siddharth have to face each other. Drugs smugglers, hiding behind the mask of Surekha Singh's bandits, clash.
In this, Havildar Bhure also gets killed. But it is not understood that why Siddhartha is torturing these three laborers so much, why is giving them a punishment worse than death? And in the end, when the curtain rises from this secret, it feels like a shock.
The story of Thar is like the sand of the desert. On which, every time it seems that there is water at a distance… but when it reaches near, it is like a mirage. That is, water deception.
The story written by Raaj Shaandilyaa and the dialogues written on it by Anurag Kashyap sets the mood of Thar from the very beginning. Thar is, in a sense, a way of giving a Neo-Western style to Hindi cinema. Sand, horses, locations, clothes, classic eras, broken walls, dark faces, dim lighting, and then keep the story format the same. Shreya Dev Dubey's camera has shown Thar to be so beautiful that special credit should be given to him.
Coming to the performance, Anil Kapoor is playing a Rajasthani police inspector for the first time. His mood, his confusion, his tongue, everything is perfect. Harsh Varrdhan Kapoor is in the right direction. Harsh Varrdhan has spoken with his eyes in the role of Siddharth. From here the path of Harshvardhan's acting career opens. Fatima Sana Shaikh, as Chetna, is brilliant.
His look, costume, expressions and quirky Rajasthani dialect are accurate. Satish Kaushik is close to perfection in the character of Havildar Bhure. Her chemistry with Anil Kapoor is amazing. Jitendra Joshi's casting in the character of Panna is perfect.
But, if anyone has really set color in Thar, then it is Mukti Mohan…. Seeing Mukti in the character of Gauri, it seems – Bhai wah…. Just like his character, this acting debut of Kamal Mukti is enough to prove that his journey is going to be great.