Published On
'The Broken News' Review: Does this TV series condemn govt's work with 'reality' as TRPs become the centre point?
The Broken News Review: After a long time you will see Bollywood actress Sonali Bendre in this web series. So read the full article to know-how is The Broken News web series.
Author :
Rohit Gupta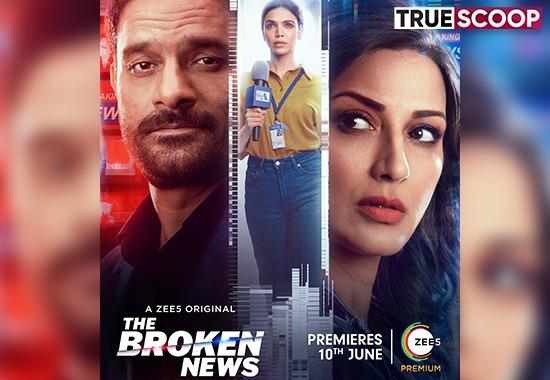 'The Broken News' Review: After a long time you will see Bollywood actress Sonali Bendre in this web series. So read the full article to know more about 'The Broken News' web series.
What is the story of this TV series?
Adapted from acclaimed author Mike Bartlett's BBC Studios 'Press', this fictional drama follows a dynamic group of journalists as they navigate the lives and struggles of two rival news channels. A few minutes into the series and you will know what kind of serious drama this is going to be. Developed and directed by Vinay Vaikul, this eight-part series is a bustling story that immerses you in the behind-the-scenes workings of a newsroom.
In this, the opposition's central characters are: 'Josh 24/7' the new channel's vicious editor-cum-anchor Dipankar Sanyal (Jaideep Ahlawat), who deals only with TRP, and moral editor-in-chief Amina Qureshi (Sonali Bendre) among the most trusted news channels. One of 'Awaaz Bharti', but low on TRP.
Between these two extreme personalities, is Radha Bhargava (Shriya Pilgaonkar), who believes in ethical journalism, but is dismayed by the dire constraints imposed on her. The three characters engage the audience with their personal and changing professional dynamics, giving viewers the thrill of the chase.
Sambit Mishra's adaptation and screenplay of BBC Studios' show Press from acclaimed author Mike Bartlett delivers a thrilling drama that keeps you invested in the workings of the entire newsroom. The plot focuses on how these journalists view the news and themselves, as opposed to how each channel handles the same story—Deepakner believes in sensationalizing the news, while Amina believes in her ethical role. It believes in giving truth and facts to the public. Plus, it reveals the reality behind our primetime daily news stories and the pressure of the team before breaking any news.
Additionally, Radha's investigation into the death of his roommate-cum-colleague-cum-friend Julia Alvaris, Dipankar's push to include Radha in his channel, Amina's secret affair with Pankaj Awasthi (Indranil Sengupta), a married man. who is also his collaborator, and several other stories fill the screenplay.
Sometimes, it's hard to keep track of all the stories. Overall, it's entertaining, and it's incredibly satisfying to see how breaking news is broken and fed, whether it's the MMS scandal involving Gulnaz Khan (Mugdha Godse) or popular actor Akhil Kapoor (Sharad Kapoor) against allegations of harassment.
The leads of the show Sonali Bendre and Shriya Pilgaonkar have strong personalities as Amina and Radha respectively, who dare to do the right thing. Sonali Bendre is reliable as an anchor in her comeback and OTT debut, but the way she delivers news, especially on prime-time shows, isn't particularly compelling. She looks stunning in every shot, portraying a character who is both kind and helpful to her co-workers.
The same Shriya Pilgaonkar is a natural fit as Radha, a fierce and fearless investigative journalist who can go to any extent to bring the truth to the masses. Her arguments with her boss Amina are interesting, but they also raise the question of whether we have as much freedom to express ourselves as she does.

Dipankar, who feels that whatever he says becomes news, is wonderfully embodied by Jaideep Ahlawat. He has an ideal demeanour for the role of Dipankar. Ahlawat's personality will make you love-hate him, depending on whether he is a troubled boss or a caring father who wants to be with his daughter. Ketan Kedia (Akash Khurana), the owner of Josh 24/7, is the only person who has some control over him.
Sanjita Bhattacharya as Juhi Shergill, Faisal Rashid as Kamal Wadia, and Taruk Raina as Anuj Saxena play important roles in the progress of the story as other journalists. All the characters have done a great job of making the audience believe.
The realistic setting of newsroom scenes and editing meetings are captured well. If you are even remotely interested in the ideologies and ethics of the news industry, then, needless to say, this show will surely be thrilling for you.