Tiger 3 to The Lady Killer: Top Bollywood movies releasing from November 3 to November 10
Ahead of the upcoming festive season, the box office is all set to welcome some of the biggest movies of 2023 including Salman Khan starrer Tiger 3 and comedy movie Khichdi-2 from November 3 to 10.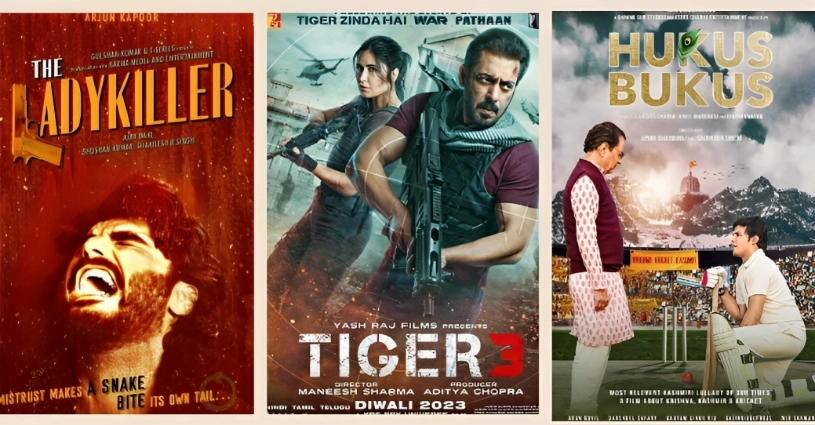 -

In the month of November, a total of 7 Bollywood films are set to be released in theaters. Among these, four films - "The Lady Killer," "UT-69," "Aankh Micholi," and "Hukus-Bukus" - are scheduled to release on November 3rd. Following this, on November 12th, the much-awaited film of the month, "Tiger 3," starring Salman Khan, will be released on the occasion of Diwali.

Film: The Lady Killer
Release Date: November 3
Director: Ajay Bahl
Star Cast: Arjun Kapoor, Bhumi Pednekar
Firstly, on November 3rd, Arjun Kapoor and Bhumi Pednekar starrer 'The Lady Killer' will be released. It is a murder mystery, the trailer of which was recently released. The film revolves around a small-town playboy and a mysterious girl. Arjun and Bhumi are working together for the first time in this film.

Film: UT-69
Release Date: November 3
Director: Shahnavaz Ali
Star Cast: Raj Kundra, Kumar Saurabh
In this film, Shilpa Shetty's husband, Raj Kundra, is making his acting debut. He spent time in Mumbai's Arthur Road Jail due to his involvement in a pornography case, and the film depicts his experiences there.

Film: Aankh Micholi
Release Date: November 3
Director: Umesh Shukla
Star Cast: Mrunal Thakur, Paresh Rawal, Abhimanyu Dassani, Vijay Raaz
This comedy film revolves around a family that tells many lies to arrange a girl's marriage. The film was initially scheduled to release on October 27 but has been postponed to November 3.

Film: Hukus-Bukus
Release Date: November 3
Directors: Vinay Bharadwaj, Soumitra Singh
Star Cast: Darsheel Safary, Arun Govil, Gautam Vig
Darsheel Safary, who made his debut as a child artist in Aamir Khan's 2007 film 'Taare Zameen Par,' plays the lead role in this film. The story revolves around a cricket enthusiast who is a huge fan of Sachin Tendulkar. The narrative is woven around Lord Krishna, Kashmir, and cricket.

Film: Tiger 3
Release Date: November 12
Director: Manish Sharma
Star Cast: Salman Khan, Katrina Kaif, Imran Hashmi
This is the third installment in Salman Khan's popular Tiger series and the fifth installment in the Yash Raj Films' spy series. In this film, Indian agent Tiger will be seen protecting his family from enemies. Imran Hashmi is playing the role of a villain for the first time in this movie.

Film: Khichdi-2
Release Date: November 17
Director: Aatish Kapadia
Star Cast: Supriya Pathak, Rajeev Mehta, Anang Desai, JD Majethia
The first part of this film was released in 2010. It is the first Bollywood film made with the name, story, and star cast of a TV serial.

Film: Farre
Release Date: November 24
Director: Soumendra Padhi
Star Cast: Alijah Agnihotri, Sahil Mehta, Prasanna Bisht
In this film, Salman Khan's niece Alijah Agnihotri is making her Bollywood debut. The story revolves around four teenage students who pass an exam by cheating.