'Time for Nitish Kumar to resign': US singer Mary Millben reacts to Bihar CM's speech fiasco
Despite Nitish Kumar's apology, Hollywood singer & actress Mary Millben slammed the Bihar CM and urged the women of Bihar to stand up and fight the election against him.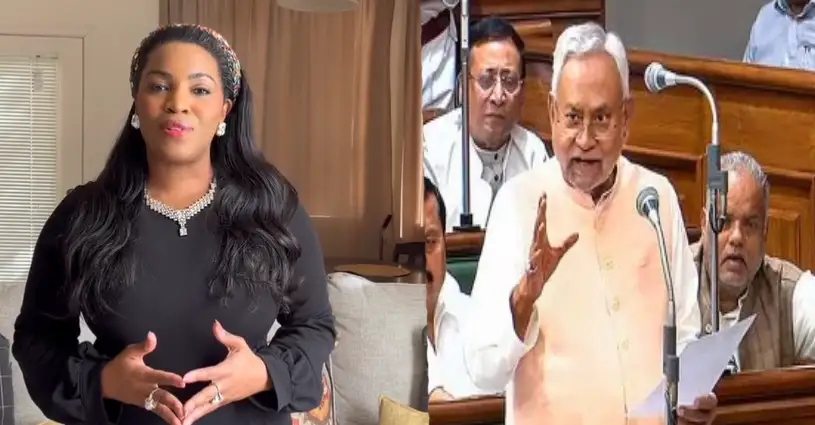 -

Hollywood singer & actress Mary Millben on Wednesday jumped into Nitish Kumar's vulgar speech fiasco and urged the women of Bihar to stand up and fight the election against the Chief Minister. Mary Millben who has been a fan girl of Prime Minister Narendra Modi is quite active when it comes to discussing India and its cultures. However, it is the first time Mary Millben has reacted to an ongoing political issue in India. Mary Millben's reaction to Nitish Kumar although is being seen through a political prism as the Hollywood singer can also be heard explaining why PM Modi is important for India-US ties in the backdrop of upcoming 2024 General Elections.

Mary Millben shared her video on X with the caption, "Brothers and sisters of India, Namaste...The 2024 election season has commenced across the world, here in America and certainly in India. Election seasons present an opportunity for change, to put an end to outdated policies and non progressive people, replaced with voices and values that inspire and truly align with all citizens, their convictions, and what is best for the collective future of a nation.

Many people ask why I support Prime Minister @narendramodi and follow India affairs so closely. The answer is simple. I love India and the Indian people globally. And I believe the Prime Minister is the best leader for India and the progress of Indian citizens. He's the best leader for the U.S.-India relationship, and for the global economic stability of the world. Moreover, he is a leader who believes in the empowerment of women. From paving the way for President Murmu's historic election, to appointing women in key cabinet positions, to encouraging Indian #women athletes and their achievements, the Prime Minister stands for women.

Today, India faces a defining moment. Right in Bihar. Where the value of women is being challenged. And I believe there is only one answer to this challenge. After Chief Minister #NitishKumar Ji's comments, I believe a courageous woman needs to step up and declare her candidacy to run for Chief Minister of Bihar. If I were a citizen of #India, I would move to Bihar and run for Chief Minister.

In the holy scriptures, Queen Esther was admonished by her cousin Mordecai to boldly approach her husband, the King, to help save her Jewish people. It was Mordecai who challenged Esther to see her place as Queen, her place and time in the kingdom, as a defining moment to save her Jewish people. Mordecai said to Esther, "Who knows but that you Esther have come to the kingdom, made Queen, for such a time as this?"

I believe the time is now for Nitish Kumar to resign and for an Esther to arise in Bihar.

I believe the #BJP should empower a woman to lead in Bihar. This would be the true sentiment of women's empowerment and development in response. Or #Bihar, do as #SRK admonished in the film #Jawan, "vote" and bring change.

You the people of Bihar, of India, have the power to vote in a woman, to vote in change…for such a time as this. Namaste."
What did Bihar CM Nitish Kumar do?
Bihar Chief Minister Nitish Kumar on Wednesday issued an apology for his remarks. Talking to the media, Bihar CM Nitish Kumar said, "I apologize and I take back my words." Accusations against Nitish Kumar arose due to his choice of words during the Assembly session while explaining the importance of education in managing the population. The National Women's Commission (NCW) had also sought an apology from the Bihar Chief Minister over his vulgar speech.
Watch Mary Millben's video