Published On
Time to worry as yet another intelligence failure shakes India
Last night a grenade attack was reported at the Punjab Police's intelligence headquarters in Mohali.
Author :
Chanderveer Singh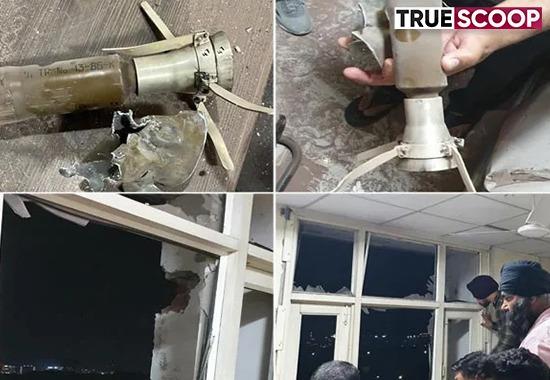 In a signifiant security lapse a rocket-propelled grenade (RPG) was flung at the third floor of the Punjab Police Intelligence Headquarters in Sector 77, Mohali, about 7.45 pm on Monday.
"A minor blast took place at the intelligence building. The investigation is going on and our senior officials are on the spot. No damage has been reported. Senior officers are on the spot and an investigation is being done. Forensic teams have been called," the Mohali police said in a statement.
Letters of threat
As per information some hours before the state's security wing was reported to have asked the law enforcement agencies to increase security. Earlier two letters were purportedly recieved from a commander of Pakistan-based terror group Jaish-e-Mohammad. The letter had warned attack on railway stations, bridges, places of worship and other major installations, and VIPs too.
Frontline's investigation has revealed that there were at least 11 intelligence inputs indicating to a macabre "Qisas (retribution) mission" in the making, one that culminated eventually in the attack on a security convoy in Lethpora, Pulwama.

The Pathankot attack in 2016 raises questions like How did the trespassers cross the border undetected?, Why were initial signals not generated and actioned? And Why did the terrorists dodge authorities for so long?
Central Intelligence agencies, 10-days before to the terror attack of 26/11 in Mumbai had credible intelligence by Pakistani-based terrorists supported by Pakistan's ISI.
Politics over security lapse
However, political comments has been stared since last night. Akali Dal president Sukhbir Badal questioned over law and order situation.
India is a country where harsh politics is being done every day on security to channelize more and more people emotionally but when it comes to deliver that security India even fail to provide safeguard to its institutions.
No learnings
Here what is more pathetic and is the also becoming axiomatic with the history is that on the Indian side, despite having a plethora of intelligence and security agencies, the entire system has been caught not just napping but are so badly compromised by their failure. They have no choice but to further cover up by creating more and more smoke in the hope their conglomerate do not sink.