Published On
Top 9 Bollywood's May 2023 releases on OTT platforms - Action, romance, and drama at your fingertips!
Have a look at the highly anticipated Bollywood releases in May 2023 on various OTT platforms, including Vikram Vedha, Tu Jhoothi Main Makkaar, and Shehzada, among others. Author :
Malkit Singh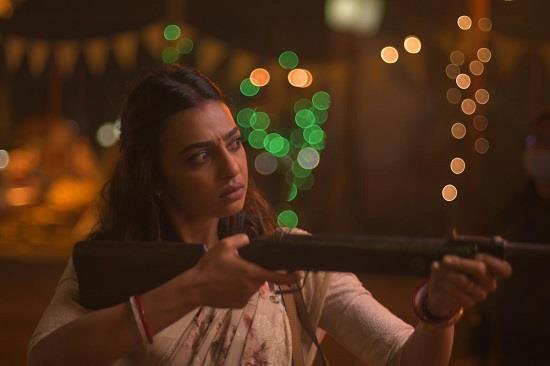 The entertainment industry has been revolutionized with the introduction of streaming services, and Bollywood filmmakers are making the most of it. As we step into May 2023, we are all set to witness some exciting Bollywood releases on OTT platforms. From action-packed thrillers to light-hearted comedies, there is something for everyone. One of the most anticipated movies of the month is Vikram Vedha, a Hindi remake of the Tamil film of the same name, featuring Hrithik Roshan and Saif Ali Khan in lead roles. Tu Jhoothi Main Makkaar, a romantic comedy-drama, and Shehzada, a family drama, are also among the highly anticipated releases this month. So, gear up for some fantastic Bollywood movies, and get ready to enjoy them from the comfort of your home.
1. Vikram Vedha (JioCinema)
Vikram Vedha (2022) is an action-packed thriller film that depicts the intense conflict between a cop and a notorious gangster, which is a Bollywood remake of the 2017 Tamil movie with the same title. Although the trailer of the movie was captivating, it failed to garner attention at the box office. Vikram, the honest police officer, is determined to capture and eliminate Vedha, the ruthless gangster. However, as Vedha begins to narrate some intriguing stories to Vikram, the lines between good and evil become blurred. JioCinema is now streaming the film in Hindi, Marathi, and Bengali audio formats for free. The movie features Saif Ali Khan, Hrithik Roshan, Radhika Apte, and other talented actors, and is directed by Pushkar and Gayathri. Tune in to witness the unexpected twists and turns of this gripping thriller. The IMDb rating of the movie is 7.1. The OTT release date for Vikram Vedha is May 12, 2023.
2. Titu Ambani (JioCinema)
Titu Ambani is a story of a man who strives to become a successful business magnate by prioritising his career over his relationships. However, his ambitions are shattered as he faces setbacks in both his marriage and profession. How will he make amends? The 2022 theatrical release is now available for streaming on JioCinema for free. The film features a talented cast including Deepika Singh Goyal, Tushar Pandey, and Raghubir Yadav, and is directed by Rohit Raj Goyal. Titu Ambani has an IMDb rating of 5.9 and was released on JioCinema on May 6, 2023.
3. Tu Jhoothi Main Makkaar (Netflix)
Tu Jhoothi Main Makkaar is a romantic comedy that revolves around Rohan 'Mickey' Arora and Nisha 'Tinni' Malhotra, who fall in love and get engaged. When Tinni gets cold feet and seeks the help of a break-up consultant without knowing it's Mickey, things take a hilarious turn, and they break up. Chaos ensues, and secrets are revealed when they meet again. The film features cameos from Kartik Aaryan and Nushrat Bharucha. Tu Jhoothi Main Makkaar has an IMDb rating of 6.7 and is available to watch on Netflix. The cast includes Ranbir Kapoor, Shraddha Kapoor, and Dimple Kapadia, among others, while Luv Ranjan is the director. The movie was released on May 3, 2023, on the OTT platform.
4. UTurn (Zee 5)
Rachana, a prospective journalistic intern, investigates a series of collisions caused by drivers illegally moving concrete blocks on a flyover to make a U-turn, but soon becomes a suspect in a murder case. U-Turn is a ZEE5 original film with an IMDb rating of 7.0 and is available to stream on Zee5. The movie stars Alaya F, Manu Rishi, Tariq Mir, Priyanka Arya, Aashim Gulati, Apoorva Suman, and Shreedhar Dubey. ZEE5 describes the movie as a thrilling tale about Radhika, a journalism intern who turns sinister as she becomes a suspect in the murder of one of the motorists she was investigating. U-Turn was released on 28 April 2023 on Zee5.
Netflix's 'Never Have I Ever' Season 4: Teenage comedy saga to premiere on June 8, 2023, Watch Trailer Now
5. Selfiee (Disney+Hotstar)
Selfiee is a Hindi film available on Disney+ Hostar, revolving around Vijay Kumar, a famous Bollywood actor who needs a driver's license from Om Prakash Agarwal, an RTO official and a devoted Vijay supporter. A miscommunication between them turns into a public dispute. The film features Akshay Kumar, Emraan Hashmi, Diana Penty, Nushrratt Bharuccha, Mahesh Thakur, Meghna Malik, Abhimanyu Singh, Adah Sharma, Kusha Kapila, and special appearances by Mrunal Thakur, Yo Yo Honey Singh, and Jacqueline Fernandez. The film was directed by Raj Mehta and has an IMDb rating of 5.9. It was released on 21 April 2023 on Disney+ Hostar.
6. Shehzada (Netflix)
Shehzada is a film about Bantu and his estranged father Valmiki, who have no love between them. Bantu falls in love with Samara and learns that Yashoda and Randeep Nanda are his biological parents. To reunite his family, he visits the Nandas and helps them. The digital streaming rights for Shehzada belong to Netflix. The film features a cast that includes Kartik Aaryan, Kriti Sanon, Ronit Roy, Paresh Rawal, Manisha Koirala, Sachin Khedekar, Rajpal Yadav, Ankur Rathee, Shalini Kapoor, Sunny Hinduja, Debattama Saha, Vin Rana, Ashwin Mushran, and Ali Asgar. Shehzada was released on 14th April 2023. The film has an IMDb rating of 4.6.
7. Mrs Undercover (Zee5)
Mrs Undercover is a spy comedy movie about Durga, a spy who has been operating undercover as a housewife for ten years when she is abruptly summoned back to work. Radhika Apte plays the character of Durga. She maintained her cover for ten years, acting as a loving housewife to her patriarchal husband, almost ignoring that she was an undercover spy. She continues to live a parallel existence as a housewife while being summoned back to work to stop a frightening, terrifying killer. The film has an IMDb rating of 6.5 and will be available to stream on Zee5 starting from April 14, 2023. The cast includes Sumeet Vyas, Rajesh Sharma, Saheb Chatterje, Laboni Sarkar, Angana Roy, Indrasish Roy, Amrita Chattopadhyay, Roshini Bhattacharya, and Biswajit Chakraborty.
8. Gaslight (Disney+ Hotstar)
Gaslight is an upcoming Hindi psychological thriller film starring Vikrant Massey and Sara Ali Khan. The film is set to release on digital platforms in the last week of March 2023. The story follows Misha, who visits her ancestral home after 15 years to meet her estranged father, only to discover that he has vanished. The film is touted as the best elevator pitch one has ever heard, with a murder mystery at its core. The film's cast also includes Akshay Oberoi and Chitrangada Singh. Gaslight is directed by Pawan Kripalani and will be available to stream on Disney+ Hotstar. Its IMDb rating is currently 7.6.
9. Faraaz (Netflix)
"Faraaz" is a Hindi-language action thriller based on the 2016 Holey Artisan Bakery attack in Dhaka, Bangladesh. The movie is inspired by true events and follows a hostage crisis that occurred when heavily armed militants attacked a popular café in Dhaka. "Faraaz" premiered at the 2022 BFI London Film Festival on October 15 and was released theatrically in India in February 2023. The film is directed by Hansal Mehta and stars Zahan Kapoor, Aamir Ali, Juhi Babbar, Aditya Rawal, and others. It has an IMDb rating of 4.4 and will be available for streaming on Netflix starting March 30, 2023.