Published On
Tragic Train Collision in Odisha Claims 233 Lives; Rescue Operations Underway
A Look Back at India's Major Train Accidents in Recent Years Author :
Rakesh Behal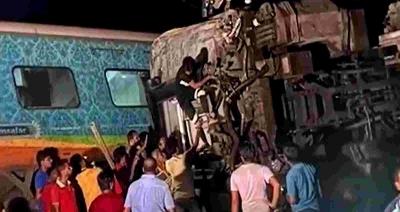 In a devastating incident today, a major accident involving three trains in Odisha has resulted in the loss of 233 lives. Two passenger trains and one freight train were involved in the collision, which occurred when one train collided with the derailed bogies of another. The incident has left 900 individuals injured and has caused immense grief and sorrow across the nation.
Rescue Operations in Progress; Prime Minister Modi Expresses Condolences
Rescue operations are currently underway at the site of the mishap as authorities work tirelessly to provide assistance to those affected. Prime Minister Narendra Modi has expressed his condolences and deep concern, stating that his thoughts are with the bereaved families. In a tweet, he conveyed his distress about the train accident and assured that all possible assistance would be provided to aid in the rescue and recovery efforts.
A Tragic Reminder: India's Major Train Accidents in Recent Years
As India mourns the latest train accident in Odisha, it is crucial to remember the past incidents that have plagued the nation's railway network. Here are some of the major train accidents in recent years:
1. Chhapra-Mathura Express Collision (July 7, 2011)
• Location: Etah district, Uttar Pradesh
• Casualties: 69 lives lost, several severe injuries
• Incident: High-speed collision with a bus at an unmanned crossing
2. Dark Year of 2012: Multiple Accidents Shake Indian Railways
• Several accidents, including derailments and head-on collisions
• Total accidents reported: Approximately 14
3. Tamil Nadu Express Fire (July 30, 2012)
• Location: Near Nellore, Andhra Pradesh
• Casualties: More than 30 fatalities
• Incident: Coach of the Delhi-Chennai train caught fire
4. Gorakhdham Express Collision (May 26, 2014)
• Location: Sant Kabir Nagar area, Uttar Pradesh
• Casualties: 25 deaths, 50+ injuries
• Incident: Collision with a halted goods train near Khalilabad station
5. Janata Express Derailment (March 20, 2015)
• Location: Near Bachrawan Railway Station, Rae Bareli, Uttar Pradesh
• Casualties: Over 30 deaths, around 150 injuries
• Incident: Engine and two coaches derailed on the Dehradun-Varanasi route
6. Indore-Patna Express Tragedy (November 20, 2016)
• Location: Pukhrayan, Kanpur, Uttar Pradesh
• Casualties: At least 150 passengers killed, 150+ injured
• Incident: Derailment of the Indore-Patna Express
7. Kalinga Utkal Express Derailment (August 19, 2017)
• Location: Khatauli, Muzaffarnagar, Uttar Pradesh
• Casualties: 21 passengers killed, 97 injured
• Incident: Derailment of 14 bogies of the Haridwar-Puri train
8. Kaifiyat Express Derailment (August 23, 2017)
• Location: Near Auraiya, Uttar Pradesh
• Casualties: At least 70 injuries
• Incident: Nine coaches of the Delhi-bound train derailed
9. Bikaner-Guwahati Express Derailment (January