Published On
Udhampur blast CCTV: Parked bus goes on a toss in mysterious explosion in Jammu & Kashmir; Video Viral
Late night on Wednesday, the first Udhampur blast took place in which two persons were injured. Author :
Ujjwal Samrat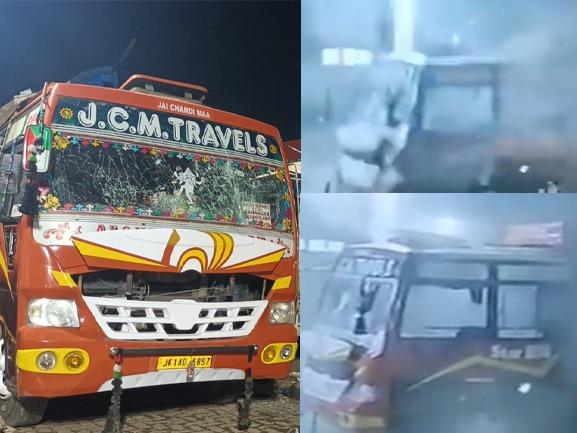 In an attempt to foil the peace prevailing in the valley, Jammu and Kashmir's Udhampur was jolted by twin blasts in the past 6 to 8 hours. Late night on Wednesday, the first Udhampur blast took place in which two persons were injured. Reportedly, a mysterious blast took place inside an empty parked bus which was standing near a petrol pump in Domail Chowk after its routine day service. To be precise, Udhampur's first blast took place around 10:30 pm and following that tensions started prevailing in the area. Now, the Udhampur blast CCTV footage is going viral on social media showing how the mysterious blast took place.
In the Udhampur blast CCTV video, it can be seen two buses parked adjacent to each other. Due to late night, it can also be seen less number of commuters near the bus. Suddenly, an explosion jolted the bus, and nearby people stood. In fact, the blast shook the adjacent bus as well. Udhampur blast CCTV viral video has been going viral on social media with people wondering who has attempted to foil the peace in Jammu and Kashmir.
Watch Udhampur Blast CCTV footage
Lt Gen Anil Chauhan (retd) appointed Chief of Defence Staff
#CCTVCamera #Footage #Jammu

जम्मू कश्मीर के उधमपुर जिले के दोमेल में स्थित पेट्रोल पंप पर खड़ी एक बस में संदिग्ध धमाका हुआ है जिसमें बस क्षतिग्रस्त हो गई है

एक दूसरी मिनी बस दो लोग बुरी तरह से जख्मी हो गए जिन्हें उपचार के लिए जिला अस्पताल उधमपुर में भर्ती करवाया गया है। pic.twitter.com/BJsnbsi8NF

— Sumit Chaudhary (@SumitDefence) September 28, 2022
Another blast in Udhampur
While the security forces and the Police were investigating the blast which took place on Wednesday night, Udhampur was jolted with another blast on Thursday. Udhampur second blast also took place in a bus that was parked at the bus stand in Jammu and Kashmir's Udhampur on Thursday morning. Udhampur twin blast has raised the concern of security forces and many reports suggest that J&K police have confirmed the terror angle in these explosions as a similar modus operandi used in both explosions. Furthermore, the Bomb Disposal Squad (BDS) team as well as the dog squad team reached the spot to carry out further investigation. In addition to this, samples at the explosion site have been collected and will then be shifted for forensic analysis. Fortunately, no injuries have been reported from the second blast.