UK, Sikh restaurant owner faces ongoing threats, vandalism and disturbing threats, including rape, from alleged Khalistan supporters
Sikh restaurateur's struggle unrelenting amidst alleged Khalistan supporter attacks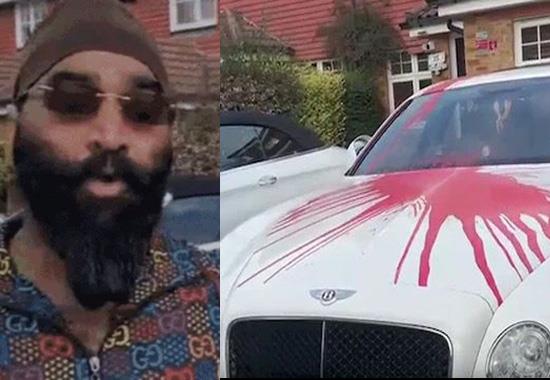 -

In a series of troubling events, a Sikh restaurant owner in the UK continues to face threats and vandalism allegedly orchestrated by Khalistani elements, stemming from a social media post he made earlier this year.

Vandalism Strikes Again

Recently, the cars of the Sikh restaurateur, Harman Singh, were vandalized in a night-time attack. Red paint was maliciously splashed on the front of both his vehicles, which were parked on his property. Harman Singh claims that this is just one incident in a string of attacks his family has endured since May, all stemming from a critical social media post he made regarding the Khalistan movement.

Threats and Intimidation Persist

Harman Singh reveals that he has received thousands of death threats ever since he posted his anti-Khalistan video. Additionally, he asserts that Khalistan supporters have stooped to sending rape threats to his wife and daughter, even revealing personal information, such as his children's school address.

Police Response Under Scrutiny

Despite the ongoing threats and acts of vandalism, Harman Singh expresses frustration with the local police, claiming they have not taken adequate action to protect his family or bring the culprits to justice. He insists that his troubles began shortly after posting a video on TikTok that criticized the Khalistan movement.

The Origin of the Conflict

Back in May, Harman Singh's video criticizing Khalistan garnered two million views within two days, attracting a barrage of threats. He recalls receiving warnings to remove the video or face dire consequences. His restaurant was even physically attacked by a group of individuals. Months later, the attacks continue, and he alleges that local law enforcement has not effectively addressed the harassment and vandalism directed at his family.