Published On
Ukrainians Troll Miss Russia at Miss Universe 2022; Check Netizen's reaction
Miss Russia Anna Linnikova at Miss Universe 2022 flaunted a deep red costume that embodied Russian Empire Author :
Tushar Singh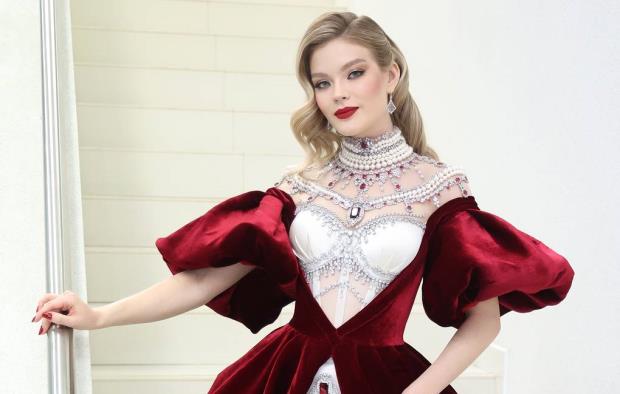 Russia's representative at the grand Miss Universe 2022 beauty pageant event Anna Vladislavovna Linnikova, couldn't find herself a spot in the top 3, however, qualified for the final round and gathered much of the headlines not for her participation, but rather for a different reason.
Twitteratis took their handle and went on to massively troll Anna over Russia's aggression over Ukraine. Memes Galore with the trend #MissRussia which began a couple of days continues on to date.
Netizens mocked her look by replacing her costume with the garbage bag, while others edited the entire scene with the destruction caused by Russian attacks in Ukrainian territory. A fair section of Twitter users titled her "Miss Genocide", embedding the trail of destruction in Russia left behind due to the Russian attack.
Feel the difference.

🇺🇦Ukraine at @MissUniverse: A costume that symbolizes Ukraine's fight for freedom.
🇷🇺 Russia at Miss Universe: A costume that embodies the Russian empire.

Very telling. pic.twitter.com/jPaZaHvFF3

— Ostap Yarysh (@OstapYarysh) January 12, 2023
Anna Linnikova flaunted a deep red dress that signified the "so-called" rich Russian empire. People by side also shared the costume of a Ukrainian contestant that embodied her country's struggle for freedom.
Here's a look at how the Netizens went trolling Miss Russia on Twitter:
#MissUniverse #MissGenocide #MissRussia @MissUniverse pic.twitter.com/ST4LX2GV2c

— a prima Cristina 🇵🇹 🇪🇺 🇺🇦 (@app_7) January 13, 2023
Miss Russia 🤬🤬 pic.twitter.com/oJuB4JrA09

— Sabrina (@Sabrina38111857) January 14, 2023
El Salvador to host the 72nd Miss Universe beauty pageant event in 2023
Miss Russia in two years: pic.twitter.com/vjmeikCtrN

— Shane Worth @tatzanx@universeodon.com (@tatzanx) January 12, 2023
The real outfit of Miss Russia revealed pic.twitter.com/KPGIciaaaH

— Ukrainian Babushka (@vic_top555) January 13, 2023
True vision for miss russia pic.twitter.com/RuI7LvQv7T

— myhovych_films (@miga18tema) January 13, 2023
Real miss russia🤬#MissUniverse #MissUniverse2023 #russiaTerroristState #russiaIsATerrorist pic.twitter.com/xZo4BqdBi7

— in search of life (@IN_searchOFlife) January 14, 2023
Meanwhile, Miss USA R'Bonney Gabriel has been crowned Miss Universe in New Orleans, Louisiana in the United States. She was followed by Amanda Dudamel of Venezuela and Andreína Martínez of the Dominican Republic, for the first and second runners-up of the grand 71st edition respectively.
Later at the event, El Salvador was announced as the host for the 72nd beauty pageant event which is scheduled to take place towards the end of 2023.