Published On
Urfi Javed 'shakes' belly on Ranveer Singh's song, Fans dig at her 'Kapde poore pahne hai maza nahi aaya'
Urfi Javed: As soon as people take the name of Urfi Javed, her torn revealing clothes and strange styles start coming into the fans mind.
Author :
Rohit Gupta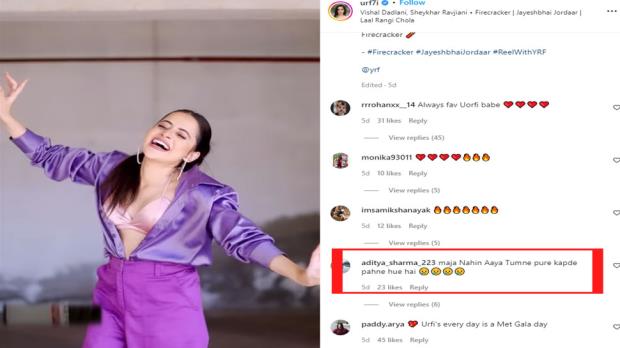 Urfi Javed: As soon as people take the name of Urfi Javed, her torn revealing clothes and strange styles start coming into the fans mind. This time also she is doing something similar.
How many heartbeats increase as soon as the name of social media sensation aka Javed is taken. Urfi Javed, who has raised the temperature of Instagram with her hot pictures, has once again come into the limelight.
Her killer dances on the song of Jayeshbhai Jordaar are not only making people crazy about themselves, but the hot and revealing dress is also making people sweat.
Seeing that Urfi has danced by shaking her waist, everyone is becoming her fan. While dancing in purple clothes to the song of the film Jayeshbhai Jordaar on her Instagram, she writes that I can't reach Ranveer Singh's energy level but I can't stop myself from dancing to this song.

These dances of Urfi are getting a lot of love from her fans. So far 96,000 likes have been received on this video. At the same time, a fan has even written that 'I did not enjoy it. You are wearing full clothes'.
Also Read: Hilary Duff nude photo: Hollywood actress pens 'this was scary' after bold pictures go viral
Urfi Javed's latest look

Urfi Javed Instagram has shared her latest look through Instagram by posting a video. In this look, Urfi Javed is seen wrapped in a bra and a transparent cloth. The special thing is that this is not a normal Urfi but a very special bralette.
It has been prepared by the actress herself from the animal shell found on the seashore. By colouring the animal shell and tying it with the help of a string, the actress has prepared a bra.
Sensual on transparent cloth wrap
To make her look more sensual, Urfi has wrapped a transparent cloth around her legs. The seaside actress is seen flaunting her look in a very cool style in the latest photoshoot. The details of the look have been shared by Urfi in his post itself. In the video, Urfi is giving very beautiful looks while waving to the judge.
As soon as the video was posted, the internet has become a rage and along with the netizens, fashion experts are also liking this experiment of Urfi. Urfi has recently completed three million followers on Instagram.
The actress celebrated this with her friends by partying in Goa. This video of Urfi also became very viral. In the video that surfaced, you can see that Urfi's friends are seen lifting her and during this, the actress is very happy and she is seen hooting in fun. It is clear in the video that Urfi says three million. After this, all his friends also start shouting 'Urfi Javed Three Million'.
Urfi Javed's fashion statement
Urfi Javed remains in the headlines for her bold looks more than one. The actress experiments with her clothes in such a way that everyone's eyes remain fixed on her dressing style.