Published On
US Supreme Court ends constitutional right to abortion; Joe Biden calls it 'Sad Day'
After the Supreme Court overturned its 50-year-old Roe v. Wade ruling, millions of women in the US will no longer be able to access abortions under the US Constitution.
Author :
Ms Chaithra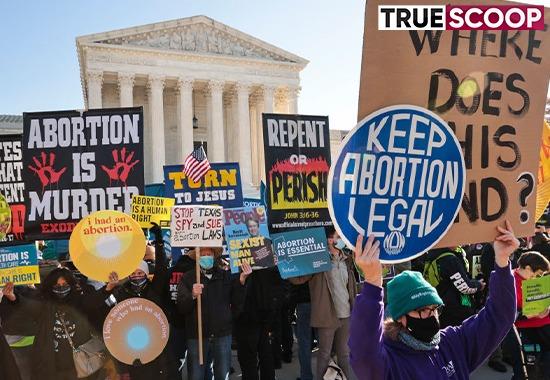 In a rare reversal of long-established law that would sever reproductive rights in America, the highest court has concluded that there is no constitutional right to abortion in the United States, overturning the precedent-setting Roe v. Wade judgment from nearly 50 years ago.
The Republican party's celebration of the decision, according to Joe Biden, is "wrong, extreme, and out of touch."
The decision was made in the case Dobbs v. Jackson Women's Health Organization, in which the final abortion facility in Mississippi fought against state efforts to outlaw abortion beyond 15 weeks and reverse Roe. The decision was made one day after the court struck down a New York gun control law.
Several states headed by Democrats have taken action to safeguard abortion access in advance of the ruling. The ruling also creates the possibility of legal disputes between the states on the legality of suing or prosecuting abortion providers and those who assist women in getting abortions.
As UN agencies alerted that restricting access to abortion does not stop people from seeking it but merely makes it "more deadly," the United Nations human rights chief described the U.S. Supreme Court decision that overturned the constitutional right to abortion as a "huge blow" to women's human rights and gender equality. The 50-year-old Roe v. Wade decision, which guaranteed access to abortion nationwide, was overturned by the U.S. Supreme Court on June 24 in a landmark decision, which was reached by a vote of six to three.
According to a tweet from the World Health Organization (WHO), more than 25 million unsafe abortions occur each year, and up to 37,000 women die as a result. Evidence indicates that limiting access to abortion does not reduce the number of abortions, the report cautioned. However, restrictions are more likely to push women and girls toward risky practices.