Uunchai OTT Release Date: When & where to watch Amitabh Bachchan-led adventure drama on the web space
Uunchai is a classic directorial presentation of Suraj R. Barjatya, who is returning behind the camera after his 2015's hit Prem Ratan Dhan Payo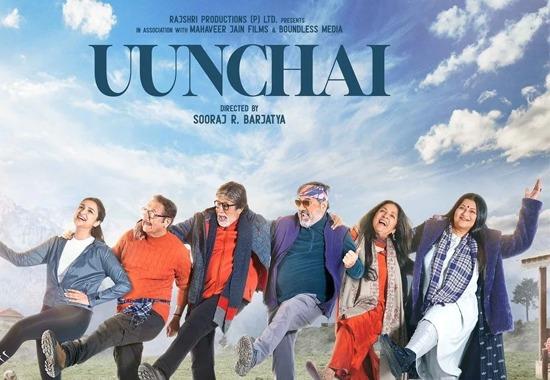 -

As we are all set to welcome the new year the OTT platforms are also geared up with the scintillating launch of the new series from across the genre presenting their viewers and subscribers with the perfect new year gifts.

Among the most-anticipated launch on the OTT in January's first week is Amitabh Bachchan-led Uunchai. A classic Suraj R. Barjatya directorial, who is returning after his 2015's Prem Ratan Dhan Payo. This multi-starrer cast story is produced by Rajshri Productions in collaboration with Mahaveer Jain Films and Boundless Media.

Story Plot:

Amit (Amitabh Bachchan), Javed (Boman Irani), and Om (Anupam Kher) are three elderly friends who intend to hike to the Everest Base Camp in order to fulfill the wish of their late buddy Bhupen (Danny Dengzongpa), whose heart belonged in the Himalayas. The journey is followed in Uunchai.

On the walk, they are joined by Shabina, Javed's wife (played by Neena Gupta), Mala, Bhupen's long-lost love (played by Sarika), and Shraddha, their tour guide (played by Parineeti Chopra). As they fight against their physical limitations and find freedom, what seems like a simple trip to Everest Base Camp turns into a personal, emotional, and spiritual journey.

Where are Virat Kohli & Anushka Sharma celebrating their New Year 2023? Details Inside

The movie completed a successful stint at the box office cornering a decent collection in the theatrical run, besides claiming a 7.7 rating on IMDb. The movie remained immensely successful to capture the hearts of viewers coming from all age groups with an emotional and appealing narrative at the center besides presenting a spectacular piece of acting from the cast.

The movie is all set to stream from the 6th of January next year on ZEE5. The company's India Chief Business Officer, Manish Kalra, said in a statement that they are thrilled to start the new year with the global digital premiere of Uunchai, one of the best family entertainers of the year, following a fruitful 2022.

Suggesting that, It is a must-watch movie for everyone, but especially the elderly, as it drives home the message of living life to the fullest, and what better reminder to dream big and live big than the beginning of a new year? The movie is directed by Sooraj Barjatya and features a never-seen-before ensemble on screen.

Sooraj R. Barjatya, the producer-director, said that Uunchai is the product of seven years of arduous labor, devotion, and, most importantly, love. Uunchai will take viewers on a rollercoaster of emotions, making them laugh and cry in equal measure and pulling at their heartstrings.