Published On
Tele actress Vibhuti Thakur phone number leaked online for sexual favours; 'Culprit arrested & booked'
Vibhuti Thakur phone number leaked online report was addressed by the actress herself after she shared a screenshot in which it was shamelessly written that if anyone wants to have a sex chat then they can directly message her
Author :
Malkit Singh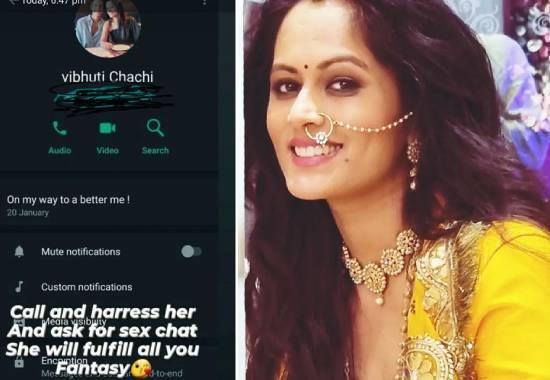 Well-renowned Hindi Television actress Vibhuti Thakur recently became the latest victim of cyberbullying. Tera Yaar Hoon Main actress Vibhuti Thakur phone number was recently leaked online stating that she will 'fulfill all your fantasies'. Vibhuti Thakur phone number leaked online report was addressed by the actress herself after she shared a screenshot in which it was shamelessly written that if anyone wants to have a sex chat then they can directly message the actress and moreover she will happily oblige.
Leaked Vibhuti Thakur phone number post was shared by the actress in a long note expressing her anger and sorrow at the same time. Sharing the viral Vibhuti Thakur number online, the actress wrote,"This has been circulated and my personal number is made to float around, causing me immense emotional distress. This is act of bullying...whoever is doing this its so shameful... the text on the screen shot itself says "harass " her....and is also demeaning to my dignity as a Woman."
"I fail to understand why someone would fall to such sickness, disturbing someone who is only concentrated on herself... Because of this disgraceful act , messages and dm/call pouring in , so I have decided to file a complaint against insta page who did this ... letting cyber crime people look into the matter, also action will be taken against all the numbers who are messaging me ...Second pic screenshot is of that person who has done all this. I request all my family, friends and fans as well to complaint this account (SIC)," Vibhuti Thakur had further written.
Vibhuti Thakur leaked phone number online
Culprit arrested in Vibhuti Thakur phone number case
Vibhuti Thakur on Thursday took to her Instagram and shared that the culprit who had leaked her number online for sexual favours has now been arrested. Furthermore, Vibhuti penned a long note on the problems faced by female actresses in the media industry.
"Culprit Found
Booked under ipc sections
500
509
67 A
And further possibilities cannot be ruled out.
There are certain people who said that these things happen with everyone and that i should ignore it .... My question however to these people is why should I ignore this and when will it stop? why should we be expected to live with something which is so unacceptable...i know i will not be able to change the system but if one voice can change even a single person's mindset and get him/her on the right path then my fight and sleepless nights are worth it. (SIC)," wrote Vibhuti Thakur.