Published On
Video: Deadly attack on Punjabi media personality in Brampton, incident caught on CCTV
Mann is well-known name in Brampton and frequently makes appearances on his podcasts
Author :
Samriti Bharadwaj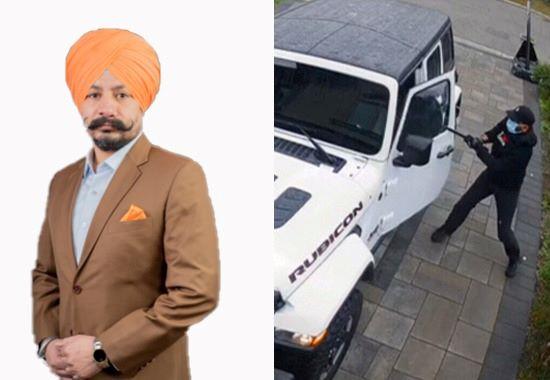 Joti Singh Mann, a well-known real estate agent and media personality in Brampton, Ont., was brutally attacked to death by three men in broad daylight in his driveway. According to Peel Police, the incident took place on August 4 at 8:15 a.m. near Hurontario Street and Mayfield Road.
Mann is well-known in Brampton and frequently makes appearances on his podcast where he talks about current issues in India.
In a video shown on a private news channel, the victim, Joti Singh Mann, is seen approaching his white Jeep Wrangler Rubicon. As he sits in the driver's seat, a suspicious person with an axe in his hand approaches him. The culprit can be seen using all of his effort to smash the driver-side window in the footage. He breaks the glass of the window completely. As Joti Singh Mann opens the door, two more suspects enter the frame and attacked him.
Three men in black dresses and masks are seen viciously hitting the man while pulling him out of his vehicle.
Mann attempts to escape from the attackers by running behind the truck, where he is caught and attacked for another 30 seconds before a woman, identified by police as Mann's mother, came out of the house.
Former Congress MLA Madan Lal on the radar of AAP govt: Suspect in the multi-crore panchayat fund scam
Immediately after the incident, emergency crews were called to the scene. Councilor Gurpreet Singh Dhillon of Brampton said that he visited Mann in the hospital and that his injuries include an amputated big toe, the loss of mobility in one hand, and more than 25 stitches.
Peel police said Mann is now in stable condition but did not comment further on his injuries. No arrests have been made yet.