Vigilance Bureau arrests another accused trader in paddy scam in Ludhiana
Court grants two days police remand to VB, Total 12 accused arrested so far, one declared PO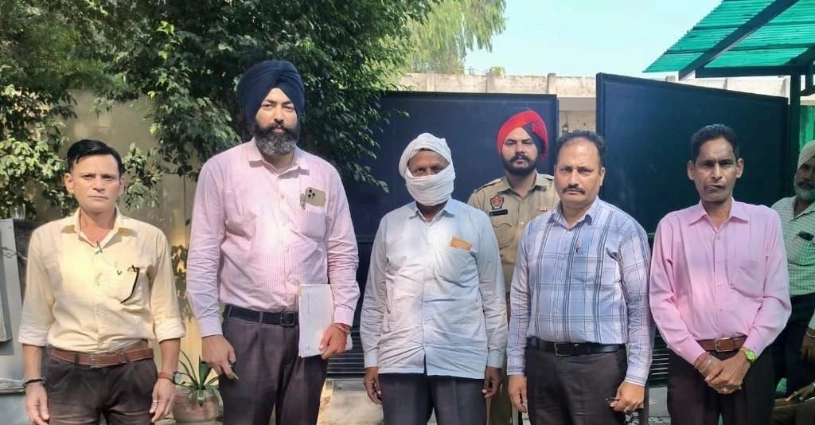 -

The Punjab Vigilance Bureau (VB) has arrested another accused trader Kalu Ram, a resident of New Abaadi, Jaiton Mandi, district Faridkot who was avoiding his arrest in the infamous paddy scam in the grain markets of Ludhiana and other districts. He was produced in Ludhiana district court and has been granted two days police remand to the Bureau.

Disclosing this here today a spokesperson of the state VB informed that Kalu Ram was closely associated with absconding accused Rakesh Kumar Singla, a suspended deputy director of Food and Civil Supplies department Punjab and Bharat Bhushan Ashu, former minister of this department.

He further added that accused Kalu Ram, under the administrative and political shelter, had provided paddy to the accused rice millers namely Krishan Lal and Surinder Kumar Dhotiwala from other states procured without MSP on the basis of forged and fabricated bills. He had also helped these accused commission agents/ aartiyaas in fabrication of bills showing more crop in the Ludhiana district instead of actual production of paddy brought by farmers at their shops, in order to get more amount in lieu of MSP from the state government.

The spokesperson informed that in this regard a case under FIR No 11, dated 16.08.22 had already been registered under sections 420, 465 , 468, 471, 120-B of IPC and under sections 7, 8, 12, 13(2) of Prevention of Corruption Act at VB police station Ludhiana range. In this case out of 16 accused, 11 accused namely former minister Bharat Bhushan Ashu, contractors Telu Ram, Jagroop Singh and Sandeep Bhatia, commission agents Anil Jain, Kishan Lal Dhotiwala and Surinder Kumar Dhotiwala, including DFSCs Harveen Kaur and Sukhwinder Singh Gill besides two private assistants of former minister Ashu namely Pankaj @ Meenu Malhotra and Inderjit Indi have already been arrested. Two accused Surinder Beri DFSC (Retd.) and Jagandeep Dhillon DM Punsup have been granted anticipatory bail by the High Court whereas anticipatory bail application of accused Paramjeet Chechi has been dismissed by the Supreme Court and he has been directed to surrender before the VB. He further informed that one prime accused RK Singla Deputy Director Food and Civil Supplies department has already been declared proclaimed offender by the competent court.