Published On
Viral Video: AAP's MLA drives car worth crores, Know who this Aam Aadmi is?
AAP MLA visits the office in his yellow Porsche car; the opposition started targeting him for driving in an expensive car
Author :
Samriti Bharadwaj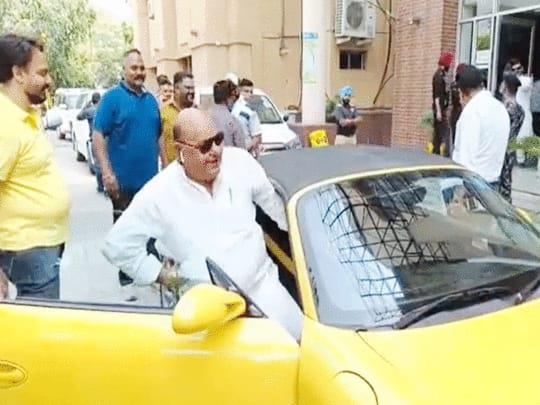 Gurpreet Singh Gogi, MLA from Punjab's Ludhiana West, has sparked a lot of discussion on social media. There is talk of him walking around in a car worth crores of rupees. On Wednesday, he arrived at the office in a yellow Porsche. The sight of a car worth crores of rupees astounded everyone. The opposition has begun to target him for driving a high-end vehicle.

The unique aspect is that Gurpreet Singh Gogi arrived on a scooter to file his nomination papers before the assembly elections, and there was some discussion about it. In the case of driving a car worth crores of rupees, he was subjected to all-out attacks.
BJP's National General Secretary Tarun Chugh took a shot at him.

A yellow Porsche car can be seen parked outside the office in Gurpreet Singh's viral video. With a cloth, a man cleans a car. With a man, the MLA leaves the office. Sit in style in the car. They exit the car in style, with the rooftop and backside of the car opening like a bird's wing. However, when questioned, he said that this car belonged to his son.

Before the Punjab Assembly elections, Gurpreet Singh Gogi left the Congress and joined the Aam Aadmi Party. He was elected as the AAP's candidate for Halka in Ludhiana West, and he won. Gogi served in Congress for nearly 23 years before joining the AAP. He was also a three-time councilor and a former Congress district head. During the previous Congress administration, he was also the chairman of the Punjab Small Industries and Export Corporation (PSIEC).

Also read: Drug Mafia: Youth openly sells narcotic products in Punjab's Faridkot goes viral; Watch

The Congress won a majority in Punjab's recent municipal elections. Gurpreet was confident that he would be elected mayor by the party. Balkar Singh Sandhu, on the other hand, was made mayor instead of him. Raman Balasubramaniam was also appointed chairman of the Improvement Trust at the same time.