Published On
Viral Video: Amritdhari Sikh student arrested in America; asked to take off kirpan, handcuffed after refusing
Amritdhari Sikh student was ordered to remove his kirpan after arriving at North Carolina University while wearing Siri Sahib
Author :
Samriti Bharadwaj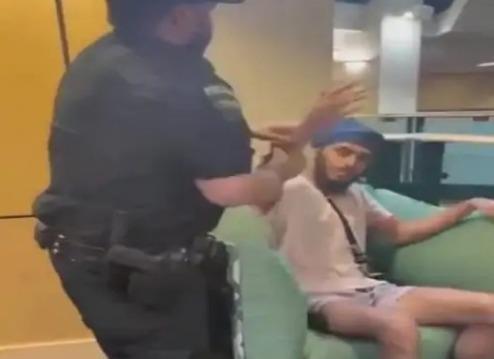 An incident of misconduct with a Sikh student at the North Carolina University of America by the police came to light. However, this is not a case of apartheid or hatred. This matter has happened regarding Kirpan (Siri Sahib).
Amritdhari Sikh student was ordered to remove his kirpan after arriving at North Carolina University while wearing Siri Sahib. On this, the Sikh youth told the uniformed police officer there that it was a sign of his religion. He can't take it off. Following that, the policeman began attempting to remove the kirpan the Sikh student was wearing. The Sikh youth advised not touching it on this. After then, the policeman warned that you would have to put on handcuffs if you didn't take off the kirpan.
Despite numerous global campaigns to create awareness about Sikh Kakaars, it's disheartening to see the Campus Police at University of North Carolina detain a Sikh youth for his Kirpan. I condemn the discriminatory attitude of University authorities towards Sikh students. @UNC pic.twitter.com/10UkIZ3WT8

— Manjinder Singh Sirsa (@mssirsa) September 24, 2022
The young Sikh man then stands up from the couch and takes his own hands away. The police officer takes the Sikh youth with him in handcuffs. As soon as this video becomes viral, the Sikh community is filled with a lot of rage. This kind of behavior of American police officers is being strongly condemned by Sikh Sangat.
The former president of the Delhi Sikh Gurdwara Management Committee, Manjinder Singh Sirsa, also strongly condemned it in a tweet. He stated that the Ministry of External Affairs has been notified about the situation. Ministry should get in touch with the University of North Carolina in America and arrange for the student's quick release from the police.
Sirsa said that the police had committed a sin by handcuffing the Kakardhari Sikh youth. He praised the Sikh teenager and noted that despite being handcuffed, the young man's steps were stable.