Published On
Amritsar: 2 youths in pursuit to buy drugs nabbed and thrashed by locals; Video Viral
Both the accused have confessed that they often used to come to procure drugs from a third party. Author :
Guneet kaur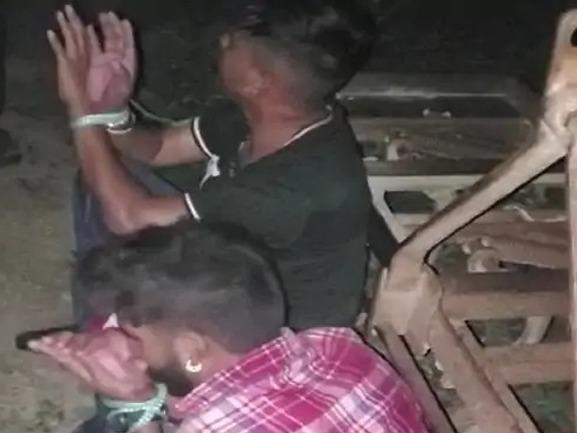 The cloud of addiction to drugs already hovers over the state of Punjab. With the latest videos that have been coming forwards, it seems like Amritsar has become the epicenter of drugs. Every other video of Amritsar shows either drugs being sold casually, youth under the influence of drugs, etc.
Now, the latest incident that has come to the fore is of Amritsar. The video that has been doing rounds is from Chheharta village. It shows two youths being badly thrashed by a group of people. Reportedly, the people told that both the youths were abusing badly and were intoxicated. According to the information received the people had already hatched a plan to catch the buyers of drugs red-handed as they have been creating a lot of nuisance.
The people of the village were already waiting for the buyers of the drugs to arrive. As soon as both the accused reached the spot, they were nabbed by the people and thrashed brutally. The hands and feet of both the youngsters were tied. Post this they were handed over to the families and told about the whole incident. Both the accused have confessed that they often used to come to procure drugs from a third party.
It's been high time that people and the police administration of the state realize that a strict action plan has to be thought out to get rid of drugs from Punjab. Action should be taken against the guilty to eradicate the problem of drugs from the root level.
Watch Viral Video
#Punjab:- People are fed up of Drug Peddlers. Thus, took the law & order in their own hands. Two drug dealers are nabbed by villagers & are beaten to learn them lesson. pic.twitter.com/mPxNPbvVUp

— Akashdeep Thind (@thind_akashdeep) September 28, 2022
Earlier, another video went viral which showed that drugs were being openly sold in the city of Amritsar. Not only this, there were queues formed just to get the drugs.
#Punjab :- Openly Drug is being sold in Amritsar. No one cares it's Dawn & people come in que to buy the drugs. pic.twitter.com/orZBxDBhhZ

— Akashdeep Thind (@thind_akashdeep) September 28, 2022